Frequently Asked Questions
Who is conducting the study? 
This study is being led by Pascal Lavoie and Louise Mâsse at the University of British Columbia and the BC Children's Hospital Research Institute in Vancouver. 
This study is part of a national initiative from the COVID-19 immunity task force (CITF) to understand COVID-19 exposure in work places. CITF is funded by the Government of Canada to perform research related to COVID-19 immunization. The CITF will collect data to share with researchers in Canada and internationally so as to understand the science underlying COVID-19 immunity, COVID-19 infection rates in the Canadian population, and to study related health outcomes. The CITF studies are intended to ensure the effective, equitable, and transparent conduct of research. 
When will the study take place?
Here is an overview showing the timeline of the study.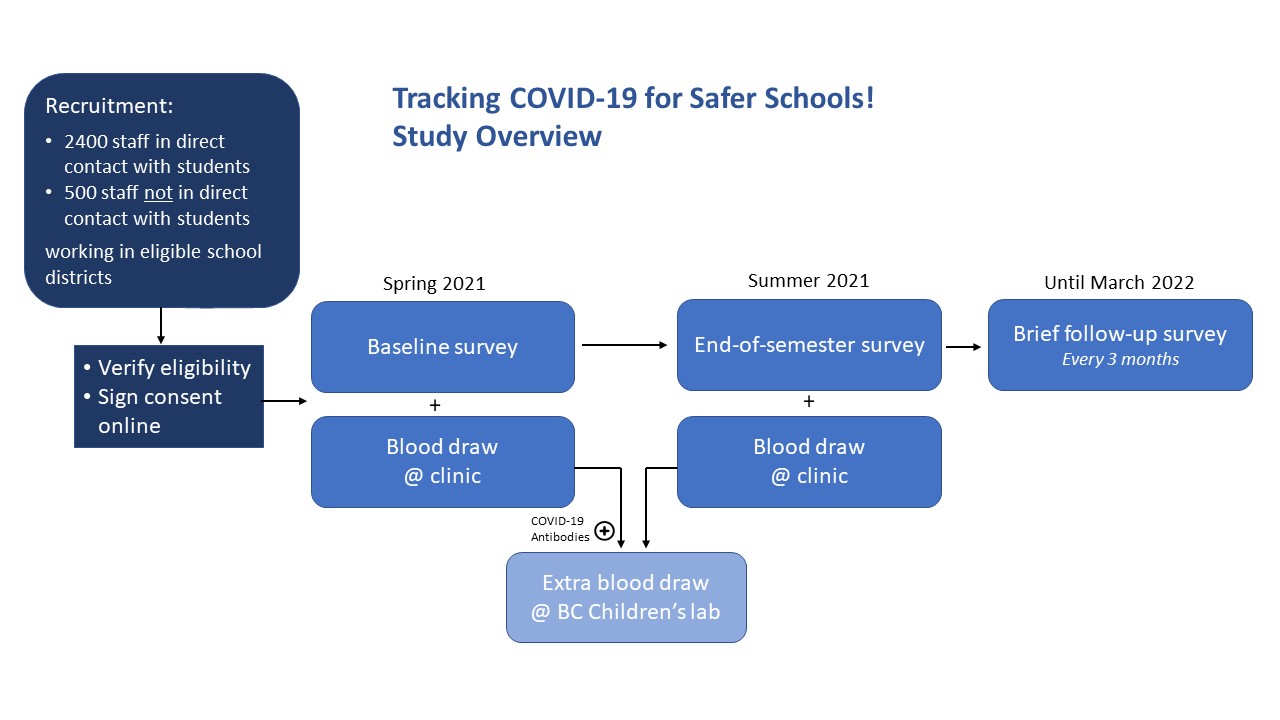 What does a positive blood test result mean?
The blood test measures levels of antibodies against SARS-CoV-2 (the virus that causes COVID-19), and if positive, it means that a person has been exposed to the SARS-CoV-2 virus in the past. It does not mean that a person currently has COVID-19 or can transmit the virus. A positive antibody test is not diagnostic for COVID-19 and does not require public health actions, but it is useful in a research setting to tell if someone has been exposed to the virus in the past. If you would like additional help interpreting your test results, please email abcovid@bcchr.ca.
What will the survey ask me? 
You will be asked general demographic information about yourself (e.g., your age, sex, gender, ethnicity, education, etc.), questions about your health and well-being, whether you have had COVID-19 in the past, and your intention to receive a COVID-19 vaccine when it becomes available (the latter is about your perception of the vaccine, and is not a consent to receive the vaccine). 
How long will the online survey take to complete?
The survey will take between 20-30 minutes to complete and can be completed as your time permits, over a week.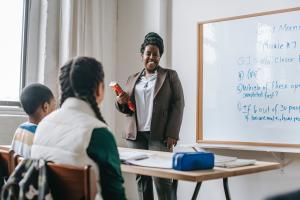 How many people will take part in this study?
This study will enroll about 2,400 classroom staff working directly with students alongside 500 school administrators or other staff who are not working directly with students.
If I previously had COVID-19, can I still participate in this study?
If you decide to participate but you think you may have COVID-19, or if you have been in contact with someone who has COVID-19 in the past 14 days, you may be contagious and you should not come to the study sites and you should quarantine yourself according to public health directives. You can still participate once you are no longer contagious and the inclusion of people who have been exposed to COVID-19 is important to understand how the body's immune system responds to the virus.
What will happen with my data that is collected for this study? 
Your confidentiality will be respected. We will make sure that none of the information collected for the study could directly identify you. Your blood samples will be used for the purpose of finding out about immune responses to COVID-19 and the information from the surveys will be used to make a conclusion how COVID-19 has influenced your mental well-being. De-identified data will be made available to the Canadian Immune Task Force (CITF) for the purpose of comparing with other COVID-19 studies in Canada and around the world.
Can I participate if I've already been vaccinated against COVID-19?
Yes, you are still eligible to participate in this study even if you've been vaccinated. There are important things we can learn from those who have already been vaccinated, such as how the body responds to the vaccine.
 
Can I participate if I've already had the COVID-19 virus?
Yes, you are still eligible to participate even if you've had the virus. There are important things we can learn from those who have had the COVID-19 illness, such as how long the virus can be detected after exposure.
Who can I contact if I have more questions?
For additional questions about this study, email the study coordinator at abcovid@bcchr.ca