Frequently asked questions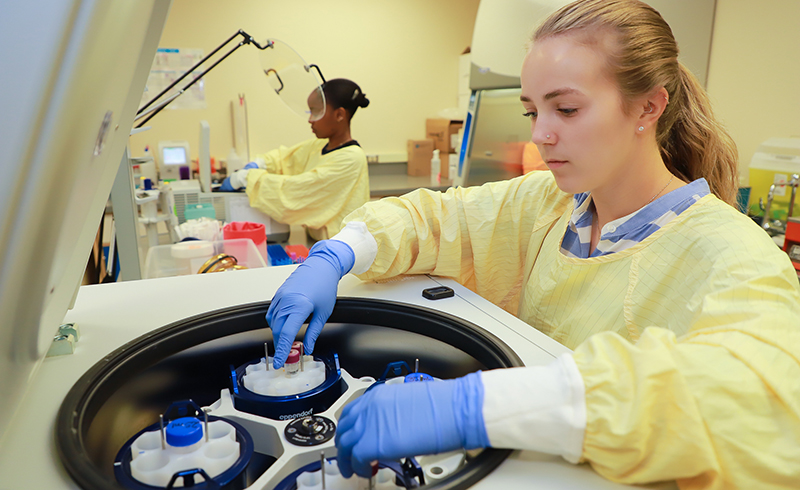 1. What is a biobank?
A biobank is a collection of biological samples such as blood and health information. Some biobanks collect a specific type of sample for a certain type of disease, like cancer.
2. How does the BioBank help scientist's research childhood diseases?
The BioBank allows researchers to access a collection of samples to help them understand a disease with the aim of improving treatments for people who have the disease.
3. Where is the BC Children's Hospital BioBank located?
The BC Children's Hospital BioBank is located on the campus of BC Children's Hospital (BCCH) and BC Women's Hospital (BCWH) in Vancouver, British Columbia.
4. What type of samples does the BioBank collect?
The BioBank collects samples of blood, tissue, bone marrow, urine, saliva, and pregnancy-related tissues from patients who are seeking health care at either BCCH or BCWH.
5. How can I donate samples to the BioBank?
All patients who have samples collected as part of a clinical procedure for the treatment of a disease at BCCH or BCWH can donate samples to the BioBank. Specially trained staff may ask eligible patients if they would like to donate a sample during a routine medical procedure. 
6. If I decide not to donate to the BioBank, will it affect my treatment?
It is entirely your choice whether to donate. Your decision will not affect your treatment.
7. Who can I ask if I want to know more?
Health care workers can answer your questions during your visit to BCCH or BCWH. You can also email BioBank Administration at biobank@cw.bc.ca for more information.
8. How does the BioBank store samples?
Samples are stored and preserved in freezers in the BioBank facility. Each sample has a specific code so that it can be easily located. Similar samples (e.g. samples affected with same disease) will be stored and processed similarly in the BioBank. This is important because it allows for a controlled research environment when scientists are comparing samples. Samples are kept in the BioBank indefinitely.
9. Who has access to these samples? Who determines what studies are done?
The BioBank was established to advance medical research and therapies for numerous diseases. Scientists who need to access biological samples for their research studies must apply to the BioBank, where a scientific committee assesses the merit of the research. In addition to obtaining approval from the BioBank, scientists must also have their research study approved by a Research Ethics Board (REB) before they receive samples from the BioBank. This means that before studies begin, they must be evaluated by a panel of ethicists. The studies must meet certain strict ethical guidelines and international standards of good medical research practices.
10. Will researchers know which sample and information is mine?
Your confidentiality is protected by the BioBank. General information such as your gender, age and type of disease might be given to a researcher; however, identifying information such as your name, birth date, and personal healthcare number (PHN) will never be shared with researchers. The BioBank staff removes all personal information from a sample and replaces it with a non-identifying code, which is used to catalogue the sample and protect your anonymity.
11. Where is my personal information kept?
The BioBank keeps all personal information in a secure database. Only trained BioBank staff can access this information. Strict security measures are in place to ensure that only authorized people are able to access the database.
12. Can my samples be sent to researchers outside of Canada?
Samples can be sent to researchers outside of Canada; however, samples will only be sent in a way that ensures participant information is not shared. The BioBank adheres to international standards of good medical research practices to ensure that the same strict protection of privacy in Canada applies to samples sent to other countries.
13. Will I be paid to donate samples?
No, participants are not financially compensated.
14. Will I know if the samples I donated have helped find a treatment or cure?
The BioBank does not release information that identifies which research projects your samples have been used for. Publications that have used BioBank samples will be posted on this website so that participants can read about the types of research that samples are used for.
15. What types of research does the BioBank support?
The BioBank supports any research that has been ethically approved and has the potential to improve the lives of children and their families in the future.
16. Will I be asked to do anything extra in the future?
You are not obligated to do anything in the future, but if you'd like to be more involved, you can:
Fill out surveys or questionnaires
Give an extra blood sample
Participate in other research studies outside the scope of the BioBank
BioBank Resources & Forms
Once a family signs a consent form, samples may be collected. If a family decides at any time that they want to remove their samples from the BioBank, they are free to do so without any explanation. However, the BioBank cannot retrieve samples that have already been provided to scientists for use in research projects.
Forms