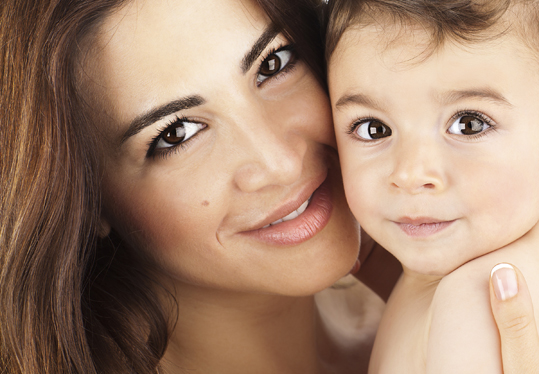 Cohort Studies:
Early Childhood Behavior: Relations to Early Brain Structure/Function and Maternal Mood (Imaging Study)
Mothers' mood disorders during pregnancy and the antidepressant medicines used to treat them appear to have effects on the developing baby and may contribute to childhood behavioral disturbances. The reasons that some children are affected and others are not remains unclear. 
In earlier work, we have shown that brain blood flow is altered in the fetus of pregnant women taking selective serotonin re-uptake inhibitor (SSRI) antidepressants. With recent advances in magnetic resonance imaging (MRI) technology we now have the unique opportunity to understand if changes in fetal brain blood flow are associated with differences in early brain development in newborns and if this is associated with behavior later in childhood.
To answer this question, we are studying depressed and non-depressed women and their children. This work will help inform very specific areas of early brain development that shape child behavior and should lead to improved health of these children and their mothers.
Executive Functions and Stress Reactivity in 6 Year Olds Following Prenatal Exposure to SSRI: 6 Year Follow-Up
Little is known about the long term impact of prenatal exposure to antidepressants on cognitive development and stress reactivity at entry to school. Funded by the Canadian Institutes of Health Research, this is a follow up study to two studies that started 10 years ago.
This study investigates whether prenatal exposure to SSRI antidepressants leads to sustained changes in key central brain functions (as reflected in how children think and learn and in how they react to stress) in 5-7 year olds. We are also studying the effects of exposure to prenatal and concurrent maternal depressed mood and whether these outcomes are affected by genetic factors. This work will assist us in better understanding the antecedents to key areas of child behavior and development, and lead to improved clinical management of exposed children and their mothers.
Attention Bias and Executive functions in 9-13 Year Olds Following Prenatal Antidepressant Exposure
In this study, we are continuing to assess learning, thinking and behaviour in early adolescent children of depressed and healthy mothers. We are investigating how children focus, sustain and shift attention and how they react to threat and stress, and are particularly interested in the impact that prenatal exposure to SSRI antidepressants has on key brain functions in 9-13 year olds. We are studying the impact of exposure to prenatal and concurrent maternal depressed mood, as well as examining whether genetic factors affect these outcomes. This work will help us better understand the developmental impact of prenatal exposure to psychotropic medications and improve the clinical management of exposed mothers and their children as they reach adolescence.
This study is funded by the Canadian Institutes of Health Research.
Linked Health Data Studies:
Developmental Origins of Autism: A Population Level Linked Data Study of Prenatal Antidepressant Medication Exposure
This study addresses critical questions about how antidepressant exposure and maternal depression during pregnancy could be related to the risk for an Autism Spectrum Disorder (ASD). We are using a combination of individual data linked with population data to study outcomes of all children born in BC between 2000 and 2009. In addition, we will follow these children until the end of 2013 to determine whether they were diagnosed with an ASD by age 4.
This study will be the first to address this issue using individual diagnostic information combined with population-based health data to examine the link between prenatal SSRI exposure and ASD in the child. 
Maternal Socioeconomic Status, Prenatal Mental Health and Psychotropic Medication Use: Associations with Infant Health
A critical challenge to understanding the influence of SSRIs has been controlling for the influence of every day factors, such as socioeconomic conditions that might also affect infant health. We are using BC's Perinatal Database Registry (all pregnant women in BC including all births between 2002 and 2009, approx 300,000 births), in combination with other population level databases, to study the relationships between a mother's mood during pregnancy, her socioeconomic status, the use of antidepressants and the health of her baby.
This work will address a highly clinically relevant issue distinguishing the effects of the medication from other factors that also influence infant health.
Pain and Children with Developmental Disabilities:
The current focus of this work is to improve pain assessment and treatment in children with a cognitive, motor or social impairment. This includes the identification of biomarkers and understanding the role of pharmacological and genetic markers that play a role in pain management.