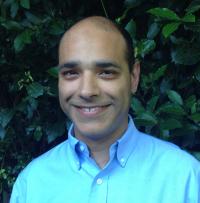 Today Dr. Manish Sadarangani begins his new role as director of the Vaccine Evaluation Center (VEC) at BC Children's Hospital. He takes over from Dr. David Scheifele, who is retiring after 28 years as VEC co-founder and director.

Founded in 1988, the VEC is an academic centre of excellence focusing on vaccine and immunization research in BC and across Canada.

Dr. Sadarangani joins the VEC from The Children's Hospital in Oxford, UK, where he was a Clinical Lecturer and Consultant in Paediatric Infectious Diseases and Immunology.

Dr. Sadarangani plans to build a research program that incorporates laboratory, clinical and population-based studies. His work will include development of new vaccines, studying the relationship between bowel bacteria and responses to infant vaccines, and examining the reasons for poor vaccination rates in some communities in order to provide evidence-based solutions. The ultimate goal of his research is to inform evidence-based policy to lower the burden of childhood infectious disease through vaccination. 

Dr. David Scheifele recently retired after 28 years as VEC co-founder and director: those are big shoes to fill. What do you plan to do first?

David has done a great job establishing and developing VEC to the point where it is recognized as a centre of excellence for vaccine and immunization research. As a result, there is an expert research team in place at VEC, so I will be reviewing all current studies and ensuring they continue to a successful conclusion. My plan is to then build on the existing, strong foundation and assemble a team to work across the breadth of translational and applied vaccinology. I will identify areas that are currently well-supported and those which will require further expansion to enable research studies encompassing basic science, translational and clinical studies. 

What are you most looking forward to as new VEC director?

The VEC is such a great place because I will be able to undertake vaccine research throughout "the vaccine cycle," from epidemiology studies to identifying targets for new vaccines and demonstrate vaccine impact, to pre-clinical development of new vaccines, to all phases of clinical trials. The ultimate goal of all of these activities is to build an evidence base for local, national and international vaccine policy and protect children in Canada and worldwide from infectious diseases. I am excited about developing studies to link up these different aspects of vaccine research, and working with all the other fantastic investigators at BC Children's Hospital and UBC. 

What do see as the future direction of the VEC?
"My aim is for VEC to be a world-leading centre for vaccine and immunization research, centered around vaccine clinical trials, and with strong basic science and epidemiology aspects. I think these are critical to informing the design of trials, the design of future vaccines, and allowing us to more fully understand the results and the basic mechanisms by which vaccines work."
It will also be vital to build strong collaborations nationally and internationally. Modern clinical trials need large numbers of participants, which is not feasible at a single centre, and increasingly difficult to do even within a single country. Some of the relevant basic science laboratory methods have now also become super-specialized and it is important to work with the world leaders to increase the data that can be obtained from each study. I would also like to see increased collaborations with the indigenous population as I think there are different issues and questions to be answered in these populations, and we will only be able to do this by working closely with communities and developing a two-way partnership.

What research are you currently working on? How will this research lead to better care for children?

I am working on a lot of studies at the moment. One of the most exciting is a study of a new meningococcal vaccine, which was developed by our group in Oxford in collaboration with three other UK research groups. It was very satisfying to develop our own vaccine from the bench to a phase I trial. I am currently analyzing how the immunized volunteers responded by looking at gene expression analysis after vaccination – which genes were switched 'on' or 'off' after the participants were vaccinated. This is a relatively new way of assessing responses and will tell us a lot about what the vaccine is doing at a basic molecular level. My current analysis is identifying differences between those with the best responses and those with the worst responses as this may help to design better vaccines in the future.

How did you become interested in vaccine immunity?
I have been interested in infectious diseases since medical school – this area always appealed more than other spheres of medicine as I was intrigued by the battle between humans and the micro-organisms, which is made all the more interesting by the rapid evolution that occurs in the pathogens.
"Having seen many children and adults suffer greatly and succumb to various serious infections, I have never had any doubt that no matter how good our treatments become, they will never be good enough to help everyone, so the best option is prevention – which has naturally drawn me to vaccine science."
Within vaccine science, there is so much variety that there is always more than enough fascinating and enjoyable work to do.

What drew you to working at BC Children's Hospital?

I did an infectious disease fellowship at BC Children's Hospital between 2011 and 2013 and it was two of the best years of my career so far. I enjoyed everything from the clinical work to the research I managed to squeeze into the time I had. The hospital is a great place to work, and the Infectious Diseases Division have always been very friendly and supportive. From my point of view, the real strength of the current set up is having an incredible research facility on the same site as a large children's hospital, which is ideal for children's research. It also means that the staff in the hospital are very aware of research, which is extremely important.

What do you like to do outside of work?

Above all, I enjoy spending time with my wife and three children, whatever we are doing. We like being outdoors and there is nothing better than a few days hiking in the mountains, come rain or shine. I also really enjoy playing soccer and tennis, going to the theatre and reading a good book.