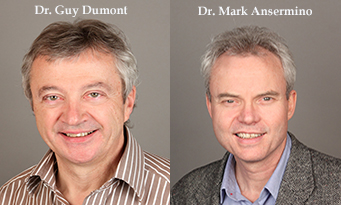 CTV National recently spoke to CFRI investigators Dr. Guy Dumont and Dr. Mark Ansermino about a new software tool that makes anesthesia safer for children.

Dr. Dumont and Dr. Ansermino developed the iControl-RP device, which automatically adjusts the anesthesia dosage based on the patient's brainwave activity and vital signs. This personalized delivery system is particularly important for children, who vary greatly in their responses to anesthesia drugs and could benefit from real-time adjustments to their drug dosages.

Doctors at Royal Columbian Hospital are currently testing iControl-RP in surgeries with adult patients. The researchers will optimize the device for use with children during general surgeries.
Click here to watch the CTV News story
Dr. Guy Dumont is an investigator at CFRI, an Associate Member of the Department of Anesthesia, Pharmacology and Therapeutics at the University of British Columbia (UBC), and a Professor in Department of Electrical and Computer Engineering at UBC. 
Dr. Mark Ansermino is an investigator at CFRI, Director of Research for Pediatric Anesthesia at BC Children's Hospital, and an Associate Professor in the Department of Anesthesia at UBC.