It's a common story in countries like Uganda: a child hospitalized for a common infection, such as meningitis, pneumonia, diarrhea and malaria, appears healthy enough to be discharged, but quickly takes a turn for the worse after returning home.
In remote and under-served areas with limited access to health care, research has shown that as many children die following discharge as during their stay in the hospital, about 5 to 10 per cent in each case.
Many of these post-discharge deaths are caused by sepsis, a severe over-reaction of the immune system to infection that can lead to organ failure, tissue damage and death.
With funding from the Mining4Life: Supporting Mining Communities Worldwide initiative, researchers from the Centre for International Child Health at BC Children's Hospital, have developed Smart Discharges, a program that allows health care workers in Uganda to identify kids that are at high risk of relapse. Once identified, they can provide families with the right tools and information to keep their kids healthy after they return home.
Smart Discharges combines a simple mobile app, referrals to a local clinic for follow-up health care, and a kit that includes education, basic hygiene and health materials. With its targeted approach, Smart Discharges also prevents the unnecessary use of limited resources, such as antibiotics.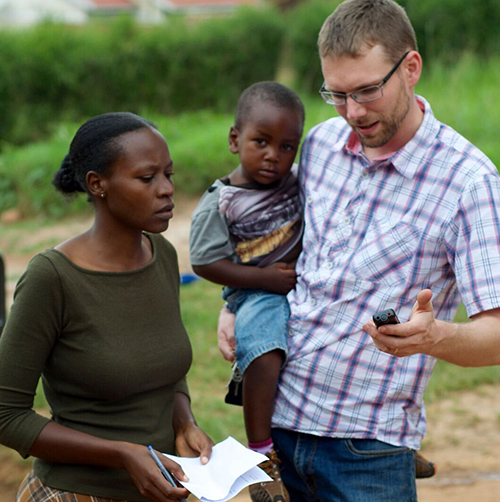 "Early results show that Smart Discharges lead to a 3-fold increase in rates of follow-up after discharge, and a 30 per cent reduction in post-discharge deaths," says Dr. Matthew Wiens, a Postdoctoral Fellow at CICH, who is currently working in Uganda. "These findings suggest that Smart Discharges can save thousands of lives each year in Uganda alone, and tens-of-thousands of lives in the surrounding countries of Sub-Saharan Africa."
Globally, at least 3.5 million kids under five die each year of sepsis. Despite advances in vaccines, antibiotics and acute care, sepsis remains the leading cause of death from infection and is responsible for roughly half of all childhood deaths. In the developing world, sepsis is the cause of 60 to 80 per cent of deaths among children.
Since low-cost mobile phones are widely available, the team is using a smartphone-based pulse oximeter that measures blood-oxygen levels, and a respiratory rate app previously developed by BC Children's Hospital researchers. The app interprets the signs and symptoms and translates the information into risk level, quickly indicating which children will be at high risk of relapse post-discharge.
The research team has found that routine information that is collected at admission – oxygen saturation, nutritional status, HIV status, prior admissions and coma score – can accurately identify kids who are at high risk of death following discharge. Completing the risk assessment when the child is being admitted to the hospital, allows health care workers to put a plan in place well before discharge occurs.
"We've found that many of the kids who died after being discharged from the hospital died at home and did not receive follow-up care," says Dr. Wiens. "Unfortunately, we've heard from families that they weren't aware that they could seek follow-up care at their local health centres.
"That's why the Smart Discharges approach is so important. With better risk assessment, referrals, education and tools to send home with families, we are saving lives."
Dr. Matthew Wiens
Read more about the work that the Centre for International Child Health is doing in Uganda:
This project is funded by:
Mining4Life
The Thrasher Research Fund
Grand Challenges Canada