If a child has trouble learning to tie her shoes, get dressed or ride a bike, her parents and teachers may think she's just clumsy. However, many children who have a hard time learning motor skills actually have a treatable condition called developmental coordination disorder (DCD) that affects 5 to 6% of all school-aged children.
BC Children's Hospital investigator Dr. Jill Zwicker and her colleagues have received a 2017 Reach Award from the Michael Smith Foundation for Health Research (MSFHR) to support the creation of an outreach campaign to help improve the diagnosis and treatment of this under-recognized disorder.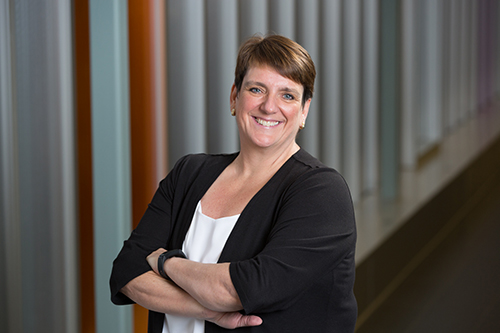 "DCD starts off as difficulty with motor skills, but the secondary consequences build throughout childhood and can last a lifetime," says Dr. Zwicker. "To improve outcomes for these children, we need to identify them sooner and intervene."
Children with DCD have difficulty learning new motor skills and performing everyday tasks, and their poor coordination is not caused by underlying conditions such as cerebral palsy or vision problems. According to research conducted by Dr. Zwicker, children with DCD often feel lonely, depressed or anxious and may suffer from low self-esteem.
The educational campaign supported by the MSFHR Reach Award will include an Advocacy Toolkit and an educational webinar for occupational therapists (OTs), and a briefing note for key policy stakeholders aimed at improving services for kids with DCD within the school system and before school entry.
According to a survey Dr. Zwicker and her colleagues conducted in 2014, over 60% of OTs practicing in BC are unaware or have limited knowledge of the current guidelines for the assessment and diagnosis of DCD.
"We targeted OTs in this project because they're such an important part of the care team for children with DCD, but many aren't aware of how to recognize and treat the condition," says Dr. Zwicker.
Diagnosing DCD requires an OT to assess a child's motor function and submit their findings to a pediatrician who rules out any other underlying medical conditions and confirms the diagnosis. Once a child has received a diagnosis, OTs can help children learn every day skills that improve their quality of life like tying their shoes or riding a bicycle.
Preliminary results of Dr. Zwicker's research show rehabilitation intervention can lead to changes in the brain and improved motor skills in children with DCD.
Dr. Zwicker and her colleagues will use information collected in the 2014 survey to create materials that are user friendly and then make them available to clinic across the province, including those in rural and remote locations. In addition to informing OTs of the best practices for assessing and treating DCD, these materials will help OTs educate other health care providers about DCD.
Dr. Zwicker became passionate about helping children with DCD while working as a school-based OT. "Children with DCD were only a small part of my caseload, but I was drawn to them because their condition is still so poorly understood," says Dr. Zwicker.
She decided to pursue a PhD and study brain differences in children with DCD. Now Dr. Zwicker's entire research program is devoted to improving the understanding and treatment of DCD, and she leads Canada's first research-integrated DCD Clinic at Sunny Hill Health Centre for Children, which has received over 500 referrals since its inception in January 2014.
"Children with DCD have average to high intelligence. These are bright kids, but they're not reaching their full potential because of motor difficulties. For children with DCD, a little investment can go a long way."
Dr. Jill Zwicker
Funding
The "DCD Advocacy Toolkit" is funded by a Michael Smith Foundation for Health Research Reach Award.
Dr. Zwicker holds a Michael Smith Foundation for Health Research Scholar Award, Canadian Child Health Clinician Scientist Career Enhancement Award, and CIHR New Investigator Award and is funded by CIHR, BC Children's Hospital Research Institute, and Sunny Hill Foundation.
Key Collaborators:                             
Ivonne Montgomery, Clinical Faculty Instructor, Department of Occupational Science and Occupational Therapy, UBC; Pediatric occupational therapist (School Therapy) and Occupational Therapy Knowledge Broker, Sunny Hill Health Centre for Children
Giovanna Boniface, National Director of Public Affairs, Canadian Association of Occupational Therapists (CAOT); Managing Director, Canadian Association of Occupational Therapists – British Columbia (CAOT-BC)
Stephanie Glegg, Research Trainee supervised by Dr. Liisa Holsti, BC Children's Hospital; PhD Student, Rehabilitation Sciences, UBC; Knowledge Broker Facilitator, Child Development & Rehabilitation Evidence Centre, Sunny Hill Health Centre for Children; Clinical Instructor, Department of Occupational Science & Occupational Therapy, UBC