The average day at the office for a software developer doesn't look anything like this.
Dustin Dunsmuir is in Mbarara, Uganda to work with local health care workers on a project that could save some of the 1 million kids under the age of five who die every year of pneumonia.
Dustin is with the Centre for International Child Health at BC Children's Hospital, and he's part of the team developing the Pocket Doc for Pneumonia. This low-cost smartphone tool will help health workers in remote areas and developing countries accurately diagnose pneumonia, quickly provide treatment and save lives. The project is led by Dr. Mark Ansermino, Dr. Tex Kissoon and Dr. Guy Dumont with BC Children's Hospital and UBC.
Pocket Doc was recently chosen as a top 10 finalist from more than 900 applicants and awarded $250,000 in the Google.org Impact Challenge. The research team is partnering with the Ugandan Ministry of Health to develop and implement a prototype.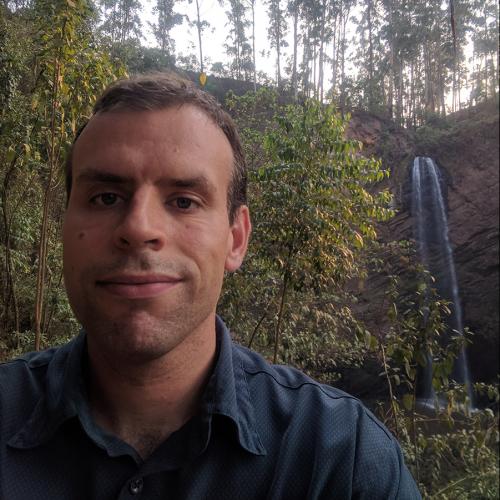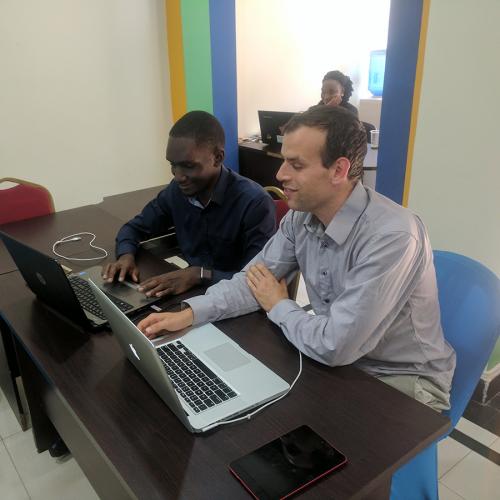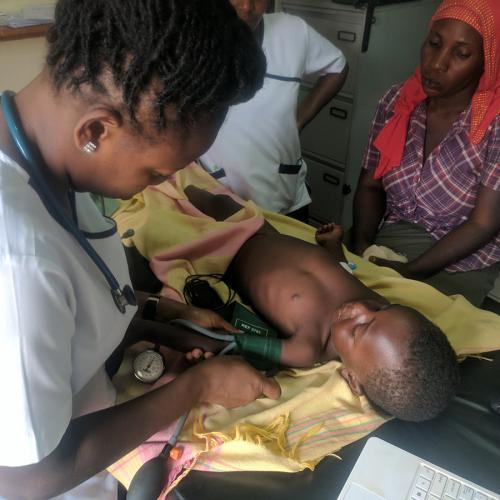 What did you do in Uganda?
I'm with CICH post-doctoral fellow Matthew Wiens, who lives in Uganda and manages the research team here. We are working with our partner hospitals and medical facilities to develop, test and ultimately begin using the Pocket Doc for Pneumonia.
My job is to visit the medical facilities and work together with the local health care workers to ensure that we design the app to be as user-friendly as possible. These are the people who will ultimately use the device, so it is very important that it be intuitive and meet their needs.
What inspired you to be part of this project?
We know that childhood pneumonia is the leading cause of death for children under five years of age worldwide and that, in many cases, these deaths are preventable with simple and inexpensive treatments such as antibiotics, IV fluids and oxygen. In areas without adequate health care, X-rays and laboratory tests are often too expensive. An inaccurate diagnosis can lead to poor treatment decisions and even death.
By improving pneumonia diagnosis we can make a big difference; it is estimated that we can help save 1 million lives by 2030. It's inspiring to know that the software I develop in collaboration with local users, could have this kind of impact.
Where did Pocket Doc for Pneumonia come from?
Over the past five years, our research team has developed low-cost, light-weight medical sensors and mobile apps to accurately measure a child's vital signs. We've also developed algorithms to interpret that data, make a diagnosis and recommend simple, life-saving care. And we have a sizable amount of pediatric clinical outcome data from low-resource settings. With the Pocket Doc for Pneumonia, we're pulling all of this together into a sophisticated, easy-to-use, inexpensive diagnostic tool. 
What sets this application apart from other innovations out there?
Smartphones and tablets are growing in popularity and coming down in cost. Pocket Doc for Pneumonia turns this everyday technology into life-saving medial equipment. But what will ultimately set it apart is its interface. We know that Pocket Doc will only be able to save lives if it can be used effectively by health workers with limited training in areas with only basic medical facilities and supplies. That's why the work I'm doing here in Uganda is so important. I am running a series of co-design workshops with doctors, nurses and village health team workers. These sessions have two purposes: first, we are learning how the clinicians currently work; and, second, we are getting valuable feedback on our current app mock-ups and prototypes. Only with this knowledge, can we develop an app that will be easy to use, effective and make a life-or-death difference in the lives of vulnerable kids around the world.