Welcome to the COVID-19 Immunology Consortium-BC Trainee Group
The COVID-19 Immunology Consortium-BC (CIC-BC) Trainee Group provides a space for students and trainees who are interested in infectious disease immunology to learn and connect with peers from various sites across the province.
Join the CIC-BC Trainee GroupShare our infographic
What's the TEA?
Each month we'll host a Trainee Engagement Activity (TEA) so you can keep a pulse on current research in the field from those who are on the ground: you! Each virtual event will feature student/trainee presentations with time for questions, discussion and networking.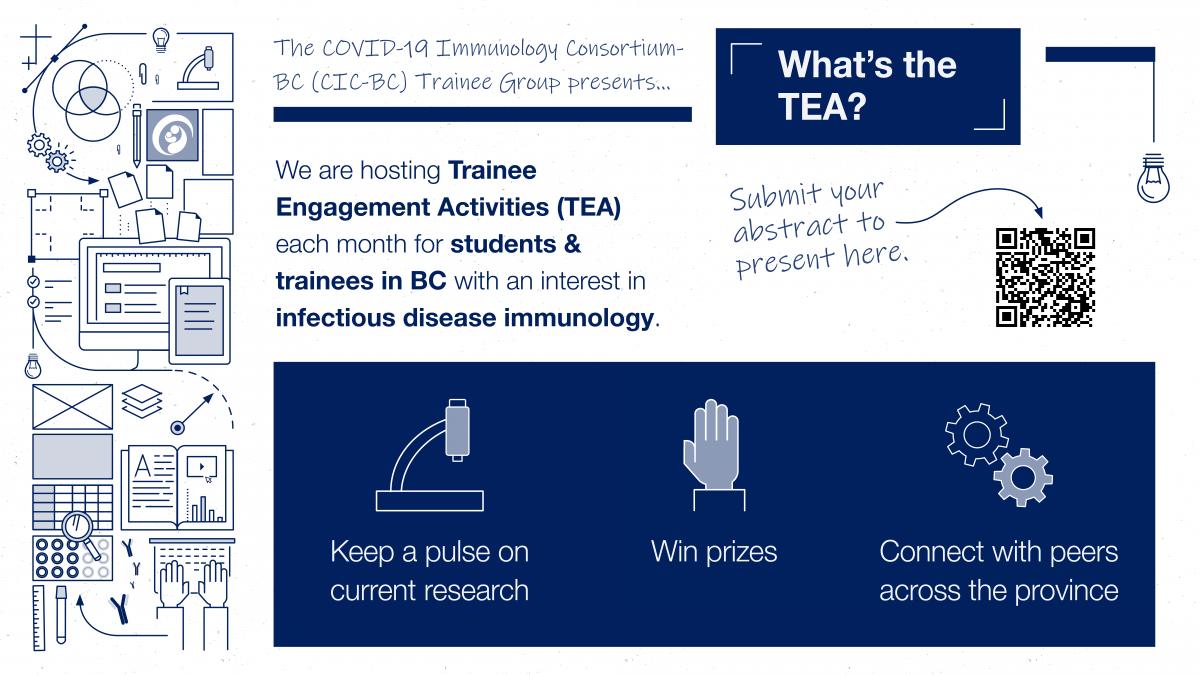 Upcoming events
Our next event is taking place in Fall 2022. Check back in for more details!
Submit an abstract to present
Why should I participate?
We understand that presentations can be nerve wracking and stressful! These events provide an informal and relaxed setting where folks can increase their exposure, receive feedback from peers and/or PIs, make connections within the research community, and expand their CV. As a small thank you for your large contribution to CIC-BC community, we will provide a $25 gift card to all presenters.
How can I participate?
These events are open to all CIC-BC members (Not a member? Join here for free). We are accepting abstracts on a rolling basis. Please see the chart below for submission deadlines based on the event date. Abstracts will be reviewed by the CIC-BC Trainee Planning Committee and accepted abstracts will be notified within 3 days of submission deadline.
Our next event is taking place in Fall 2022. Check back in for more details!
We are seeking abstract submissions for the following presentation styles:
Journal Club
Present a peer reviewed article (~20 minutes) that is relevant to your project(s) or of general interest. This provides an opportunity for students/trainees who do not yet have data but would like to bring forward literature that supports their work. Highly encouraged for new trainees!
Work in Progress Presentations
Present your work (~20 minutes) in an informal and open environment to receive feedback from peers. Your presentation does not need to be perfect – a working copy is excellent! We hope to foster discussions among peers to help improve each other's work.
Previous events
May 2022
Prognostic peripheral blood biomarkers at ICU admission predict COVID-19 clinical outcomes
Measuring the Contributions of the Humoral Response in COVID-19
March 2022
Assessing the Ability of COVID-19 mRNA Vaccines to Elicit Antibodies Against SARS-CoV-2 Variants of Concern
The PREVENT COVID study, a prospective study evaluating COVID-19 vaccine-elicited immunity in adults aged 19 years and above in British Columbia
Gabrielle Gaultier, PhD
Brynn McMillan, MSc