BioBanking at the Children's & Women's Health Centre
of British Columbia
Upcoming Events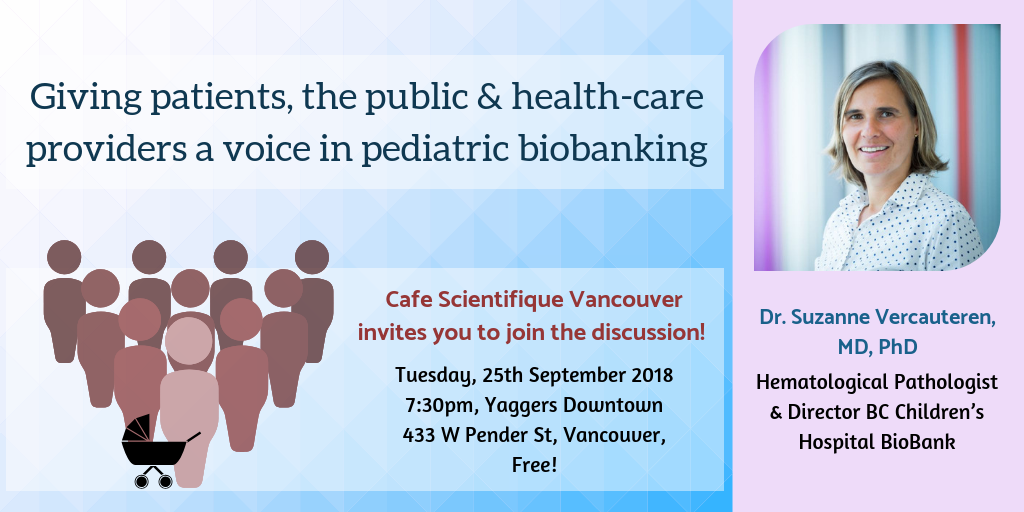 Research dissemination event: Cafe Scientifique
Thanks to all of our 97 participants who engaged in lively discussions on how they would like to be involved with the BioBank and shared their opinions on important research participation issues. We have come up with some great recommendations for the future of BioBanking awareness and research participation at BC Children's Hospital and would like to share our findings and hear your additional feedback.
Who: All members of the public (19+)
What: An interactive discussion and sharing of research findings from a large multi-stakeholder research engagement project on pediatric biobanking
When: Tuesday, September 25, 7:30pm-8:30pm
Where: Back room at Yagger's Downtown (433 W Pender)
About the BC Children's Hospital BioBank
This video will tell you all about the BC Children's Hospital BioBank and how you can help. To become a secret superhero, email the BC Children's Hospital BioBank Administration at biobank@cw.bc.ca.
Biobanks fuel medical research
Advances in medical research have drastically improved quality of life for millions of people and lead to effective treatments for conditions that were once life-threatening. 
In order to continue improving treatments and therapies, researchers need access to health information and biological samples, such as blood, from a wide variety of people. A biobank is a collection of de-identified information and samples that scientists can access for their research.
A single biospecimen from one patient has the ability to fuel numerous research projects, any one of which might lead to an important medical breakthrough.
BC Children's Hospital BioBank collects samples from patients at both BC Children's Hospital and BC Women's Hospital. Development of the BC Children's Hospital BioBank was made possible thanks to a generous donation from Mining for Miracles - the BC mining community's longstanding fundraising campaign for BC Children's Hospital.
Contact
For any inquiries about the BioBank, please contact:
BioBank Administration
Phone: 604-875-2000 ext. 6423
Email: biobank@cw.bc.ca