Join us, alongside BC's Lieutenant Governor, Honourable Janet Austin (@LGJanetAustin) in taking the #DifferentTogether pledge. We are stronger when we are #DifferentTogether.
Music: https://www.bensound.com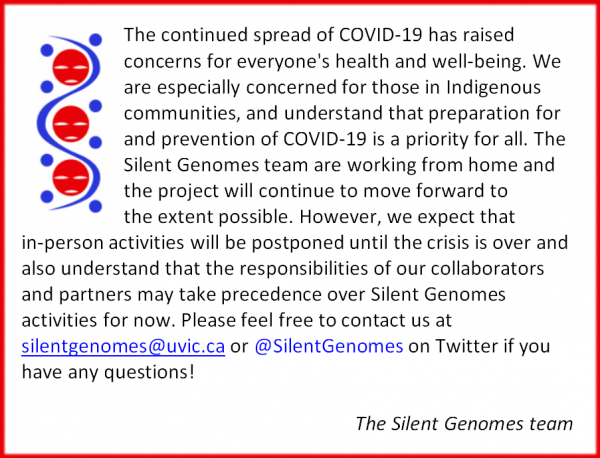 Silent Genomes Project
Reducing health care disparities and improving diagnostic success for children with genetic diseases from Indigenous populations
 
"The Indigenous Peoples of Canada face unique health challenges, inequities, and barriers to health care and typically have poorer health outcomes than non-Indigenous groups. While leading-edge genomic technologies are becoming routinely available to other Canadians, Indigenous people often have little or no access to these technologies, increasing the health disparity gap. Silent Genomes is a game-changing effort to address this inequity, by bringing life-changing genomic diagnosis to children while ensuring Indigenous-led governance over biological samples and health data."
                                                                           Laura Arbour, MD, MSc, MSc, FRCPC, FCCMG (Project Lead)
                                                                           Nadine R. Caron, MD, MPH, FRCSC (Co-Lead)
                                                                           Wyeth W. Wasserman, PhD (Co-Lead)
Our mission:
Genomics (the study of the complete set of human genes) has advanced health care by allowing medical treatments to be tailored to the specific needs of individual patients ('precision medicine'). Compared to what is becoming routinely available to other Canadians, Indigenous populations often have little or no access to genomic technologies and the research that drives them. This has created a 'genomic divide', a key component of which is the lack of background genetic variation data for Indigenous populations. This prevents accurate diagnosis, because reference data are needed when multi-gene and exome (entire genome) testing panels are used. Notably, these genomics resources are silent with respect to First Nations (FN), Inuit and Métis peoples (collectively our Canadian Indigenous populations).
Silent Genomes will address the genomic divide by reducing access barriers to diagnosis of genetic disease in Indigenous children. With our First Nations, Inuit and Métis partners we will:
Establish processes, through an Indigenous lens, for safe governance of biological samples and genome data in the Silent Genomes project, which will lead to broader policy.
Address barriers to accessing genetic/genomic health care and bring genomic testing to at least 200 Indigenous children with suspected genetic disorders.
Develop an Indigenous Background Variant Library (IBVL) of genetic variation from a diverse group of 1500 FN Canadians and assess improvement in diagnosis for referred children.
Assess effectiveness of the IBVL to lower health care costs and plan for long term use of IBVL for Canadian Indigenous children and adults needing genetic/genomic health care.
Contact us:
Silent Genomes Project
Medical Sciences Building 
University of Victoria
PO Box 1700 STN CSC 
Victoria, BC V8W 2Y2
T: 250-472-5655
1-888-853-8924 (ext. 2)
E: silentgenomes@uvic.ca