Global Health Conference 2023
Thank you to everyone who attended the 5th Annual Global Health Conference.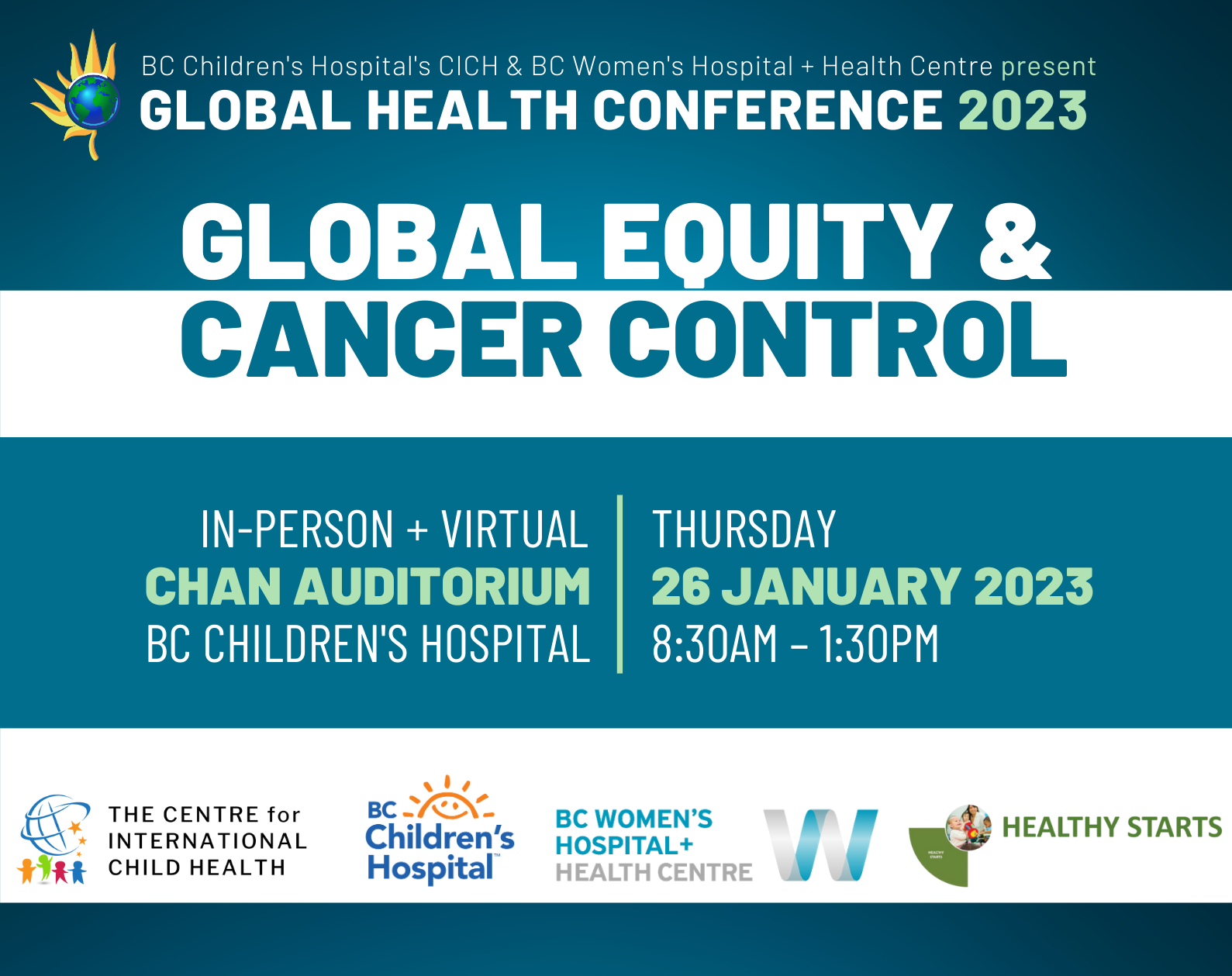 About the Global Health Conference
Global Equity & Cancer Control
When: Thursday, January 26, 2023 | 8:30 a.m. – 1:30 p.m. PST
Where: In-person at the Chan Centre for Family Health Education, BC Children's Hospital & Virtual
On behalf of the Centre for International and Child Health (CICH) at BC Children's Hospital and the BC Women's Hospital + Health Centre, we present to you the 5th Annual Global Health Conference.
The Global Health Conference is an annual event bringing together a community of students, trainees, clinicians, researchers, and faculty from across health professions and disciplines to share knowledge. We hope that you will join us for a conversation on "Global Equity and Cancer Control" with conference co-Chairs Dr. Gina Ogilvie and Dr. Caron Strahlendorf. The conference will host a wide range of speakers from around the world, giving us the opportunity to re-examine cancer control from a global equity lens with a particular focus on the global cancer burden on children and women.  
Registration is FREE! Click on the button below to register.
Keynote speakers  
Dr. Simon Sutcliffe (MD, FRCP, FRCP(C), FRCR) is a clinical oncologist (non-practicing), having been President & CEO of Princess Margaret Hospital/Ontario Cancer Institute (1994-1996) and the BC Cancer Agency (2000- 2009). He is currently the President of Two Worlds Cancer Collaboration, a non-profit Society and charitable foundation - a volunteer organization bridging the disparities in cancer control between the two worlds of the higher and lesser-resourced world.
Dr. Carlos Rodriguez-Galindo, M.D., is the director of the St. Jude Global program at St. Jude Children's Research Hospital and an executive vice president within the organization. He is also the chair of the Department of Global Pediatric Medicine and holds the Four Stars of Chicago Endowed Chair in International Pediatric Research. Rodriguez-Galindo led an institutional effort to become the first World Health Organization (WHO) Collaborating Centre for Childhood Cancer. As part of this partnership, WHO and St. Jude are collaborating with other organizations on the Global Initiative in Childhood Cancer.
Conference Schedule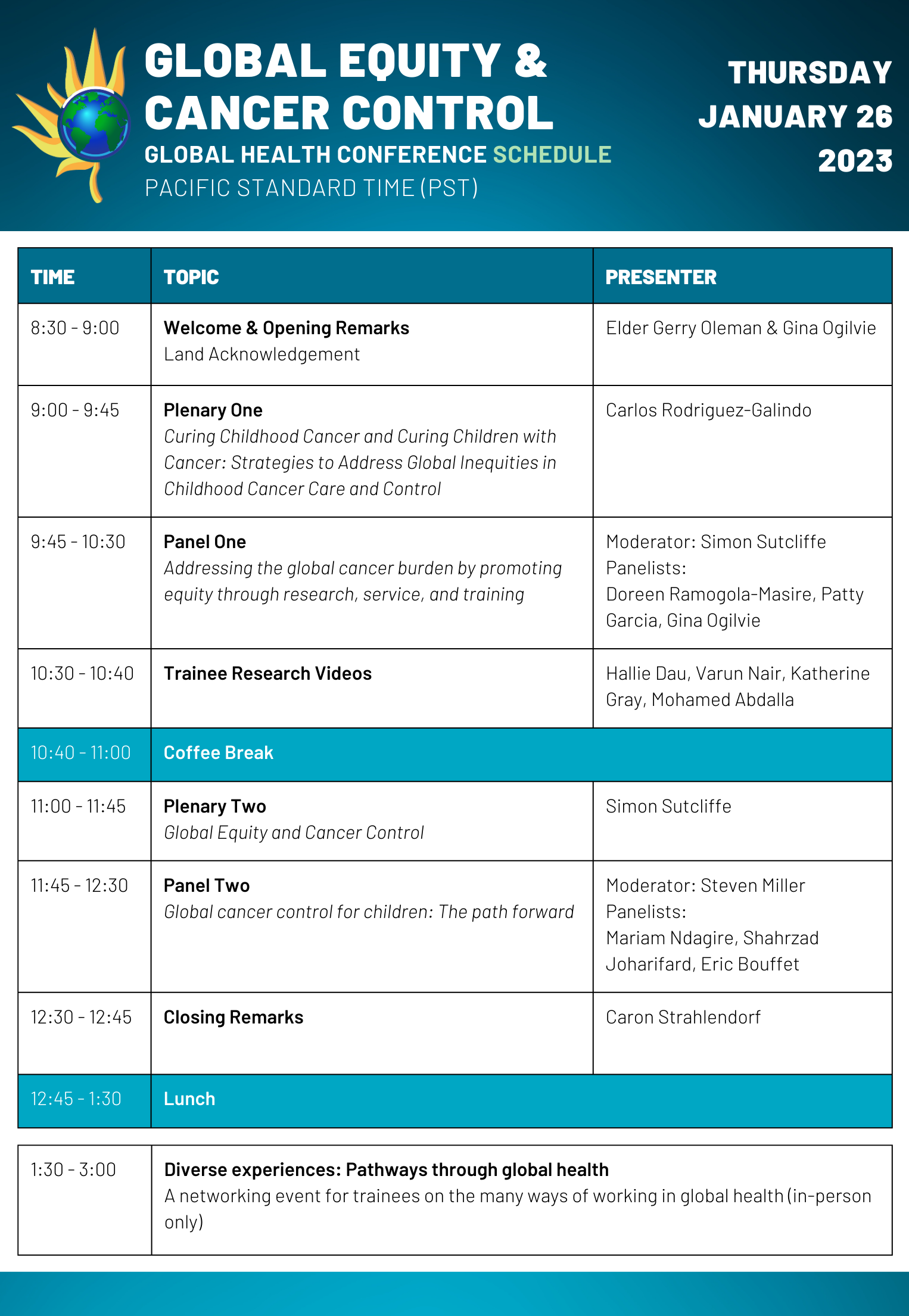 Diverse experiences: Pathways through global health
A networking event for trainees on the many ways of working in global health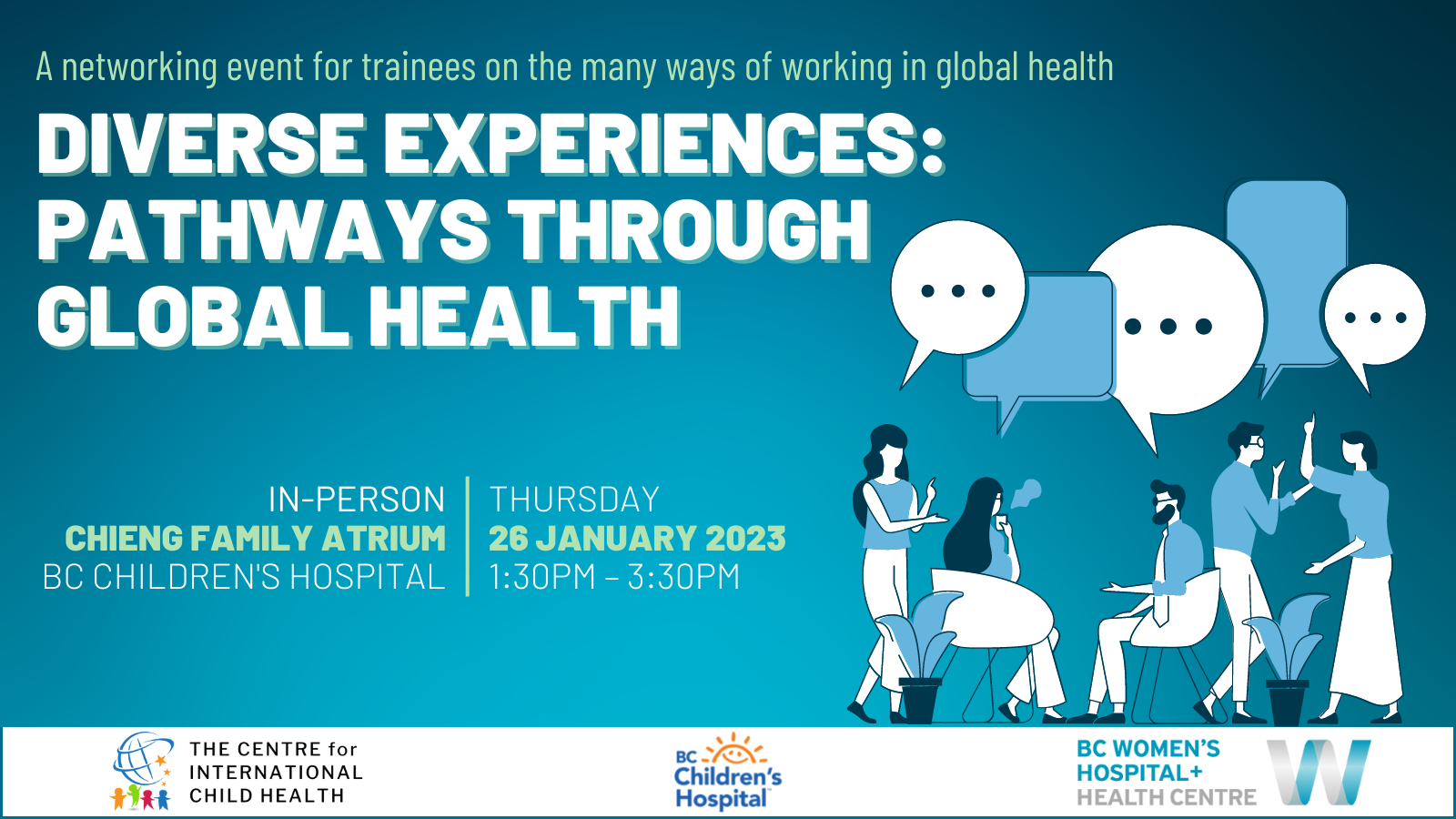 As part of the 5th Annual Global Health Conference, BC Children's Hospital's Centre for International Child Health and BC Women's Hospital + Health Centre are hosting an in-person trainee event entitled Diverse experiences: Pathways through Global Health.
When: Thursday, January 26, 2023 | 1:30 – 3:30 p.m. PST
Where: In-person at the Chieng Family Atrium, BC Children's Hospital 
Trainees will have the opportunity to participate in small group discussions with mentors to explore a variety of pathways to working in global health and different ways of making an impact. The break-out sessions will cover a range of topics and trainees will be able to attend two sessions of their choice.  
Save the date! Registration will open soon and is a free event for trainees.