Click here to purchase your tickets now. Don't delay as we were was completely sold out last year!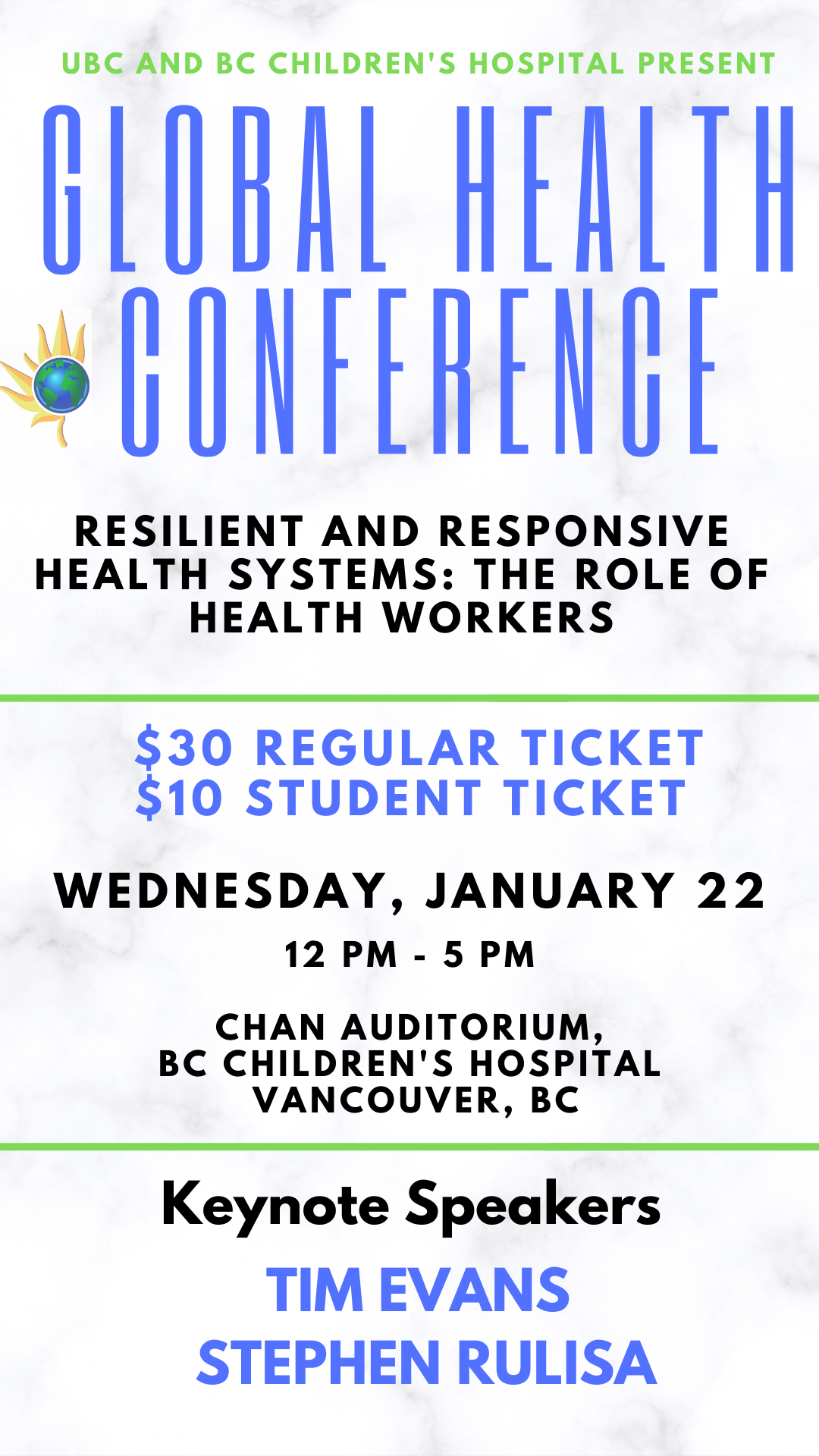 ---
Videos from the 2020 conference
Tim Evans: Tim Evans (Director and Associate Dean of McGill's School of Population and Global Health) presented on the role of health workers in creating resilient and responsive health systems. 
Panel 1: The first panel discussion on equity in the global health workforce along the continuum of care. The panelists were Angeli Rawat, Elizabeth Saewyc, Dorothy Shaw and Padma Venkatasubbu moderated by Tim Evans.
Stephen Keynote: Stephen Rulisa (Professor of Obstetrics & Gynecology and former Dean of the School of Medicine and Pharmacy at the University of Rwanda) presented on the sustainability of Human Resources for Health (HRH) program in Rwanda.
Panel 2:  The second panel discussion on Human Resources in the context of conflict and recovery. The panelists were Lynda Redwood-Campbell, Mohamed Ibrahim, Stephen Rulisa, Patricia Spittal and Meaghan Thumath; moderated by Simona Powell.
Schedule UBC and BC Children's Hospital Global Health Conference 2020
Schedule:
12:00 - 12:45 PM: Lunch served
12:45 - 1:00 PM: Welcome and opening remarks: Deborah Money
1:00 - 1:45 PM: Keynote presentation: Tim Evans
1:45 - 2:45 PM: Panel discussion: Addressing equity in the global health workforce
Panelists: Angeli Rawat, Elizabeth Saewyc, Dorothy Shaw, Padmavanthy Venkatasubbu. Moderator: Tim Evans
2:45 - 3:15 PM: Coffee Break
3:15 - 4:00 PM: Presentation: Stephen Rulisa, Human Resources for Health in Rwanda
4:00 – 5:00 PM: Panel discussion: Human resources for health through conflict and recovery
Panelists: Lynda Redwood-Campbell, Mohamed Ibrahim, Stephen Rulisa, Patricia Spittal, Meaghan Thumath Moderator: Simona Powell
5:00 - 5:15 PM: Closing remarks: Conference co-chairs Gina Ogilvie and Mark Ansermino
5:15 - 6:30 PM:  Wine and Cheese Reception