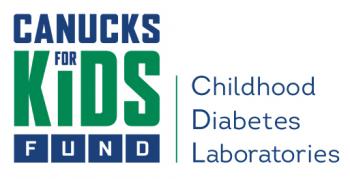 The Canucks for Kids Fund Childhood Diabetes Laboratories aim to improve the lives of children with diabetes by advancing knowledge of type 1 and type 2 diabetes, through innovative and multi-disciplinary basic and clinical diabetes research. Research is aimed at understanding the causes of types 1 and 2 diabetes and improving treatments.
Our team brings together researchers from a variety of backgrounds – including virology, genetics, immunology, islet biology, and clinical diabetes research – to tackle this complex disease. Our investigators have extensive ties with the international diabetes research community and participate in international clinical trials for diabetes.
Fast Facts
The Canucks for Kids Fund Childhood Diabetes Laboratories were created in 2002 with a $9-million award from the Canada Foundation for Innovation and British Columbia Knowledge Development Fun
Created 50 new jobs with support from international, industrial and charitable funders
Housed at the research facilities at BC Children's Hospital
12 core investigators including 4 new recruits
In the past 5 years, diabetes investigators have supervised over 100 graduate students and post-doctoral fellows, and more than 80 undergraduates.
Since 2009, diabetes researchers have made 7 invention disclosures, filed 17 patents (provisional and utility), and filed 2 interinstitutional/option agreements.
News & Announcements
The University of British Columbia Vice-President, Research & Innovation Office is supporting the development of clusters of research excellence at UBC. A team of UBC investigators from across multiple sites including BCCHR, UBC Life Sciences Institute, VGH and the UBC Okanagan campus
have been awarded a $100,000 team grant for Catalyzing Research Clusters to provide seed funding in support of developing a diabetes research cluster for the region in 2018.