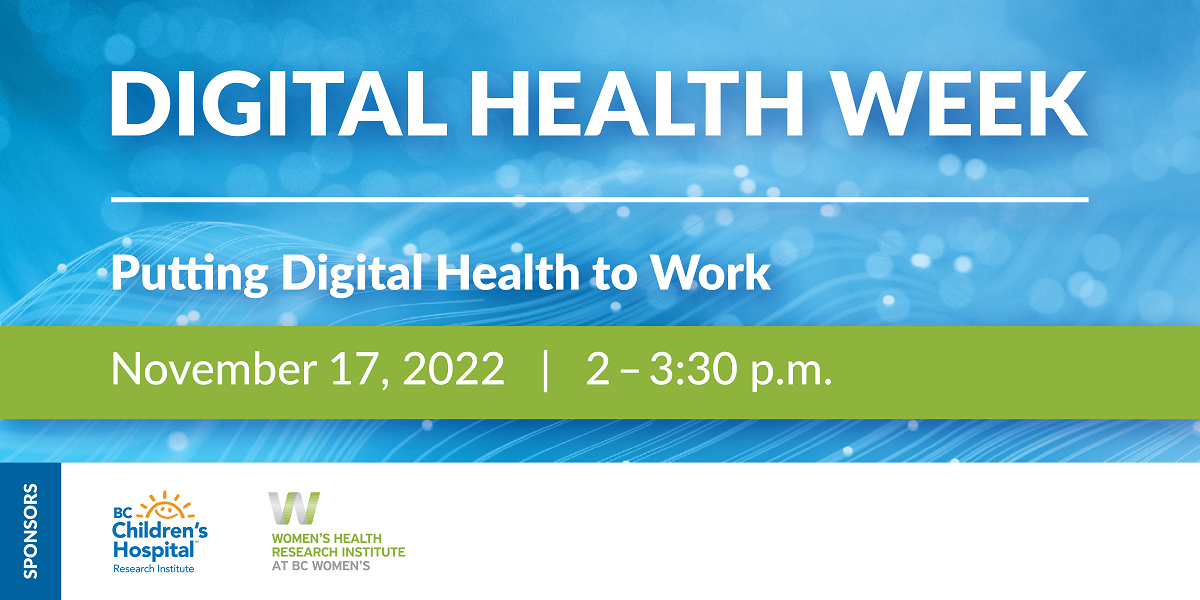 Come celebrate Digital Health Week with BC Children's Hospital Research Institute (BCCHR) and the Women's Health Research Institute (WHRI) and partners at the Provincial Health Services Authority (PHSA) November 14 to 18!
At this year's annual celebration of digital health, we are showcasing the incredible work of our investigators, trainees and partners who have applied digital technology to improve the quality of women's or children's health care in B.C. and beyond!
You can connect with us throughout the week by watching our virtual poster series on YouTube. Check out the great work of our trainees in Digital Health Research! Click on the button below to view the virtual poster series.
Or you can join us at our showcase hybrid event on November 17 in the Chan Centre for Family Health Education or online.
Click on the button below to register: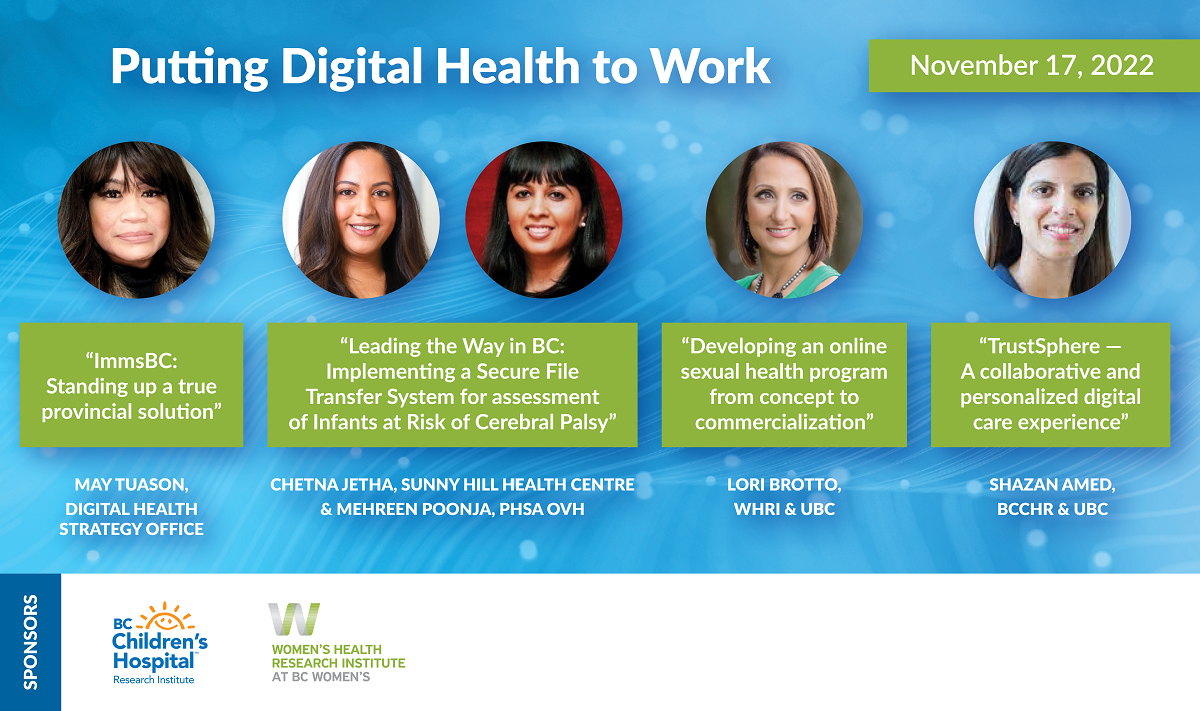 Speaker Series Agenda November 17, 2022
Welcome and land acknowledgement
2 - 2:10 p.m.                  TBC 
Trainee poster winner
2:10 - 2:15 p.m.             Announced day of
        
ImmsBC: standing up a true provincial solution
2:15 - 2:30 p.m.             Presented by: May Tauson
Developing an online sexual health program from concept to commercialization
2:30 - 2:45 p.m.             Presented by: Lori Brotto 
        
TrustSphere: a secure connection to health for paediatric T1D
2:45 - 3 p.m.                  Presented by: Shazhan Amed
        
Leading the Way in BC: Implementing a Secure File Transfer System for assessment of Infants at Risk of Cerebral Palsy
3 - 3:15 p.m.                  Presented by: Chetna Jetha and Mehreen Poojan
        
Questions and discussion with presenters
3:15 - 3:30 p.m.             Facilitated by: Beth Payne
Vendor fair and networking in the Chieng Family Atrium
3:30 - 4:30 p.m.             Food and beverages and opportunities to network with individuals and  organizations leading digital health in the province.
Celebrate Digital Health Week
The BCCHR and WHRI events are part of a series of Digital Health Week events being hosted across the province by PHSA. For more information on the many exciting things happening throughout the week click on the button below. 
Brought to you by the Digital Health Week organizers:
The Office of Virtual Health / Digital Health Strategy Office / BC Children's Hospital Research Institute and Women's Health Research Institute / Healthcare Information Management Systems Society – BC Chapter