Dr. Srinivas Murthy, an investigator at BC Children's Hospital, has been awarded the Health Research Foundation of Innovative Medicines Canada Chair in Pandemic Preparedness Research.
The creation of the research chair was founded by the member companies of Innovative Medicines Canada to support the work of a researcher affiliated with a recognized academic institution. Murthy is a clinical associate professor in the department of pediatrics in the Faculty of Medicine at the University of British Columbia (UBC).
Dr. Murthy's research focuses on pandemic clinical research.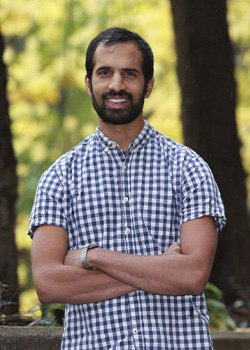 "This opportunity will provide me with the flexibility and the time to better work on responding to this pandemic, on preparing for future pandemics and on ensuring that Canadian clinical research can inform clinical practice in an optimal way," said Dr. Murthy.
He aims to establish Canada as a leader in adaptive, integrated clinical trials in hospitalized patients for the purpose of rapid knowledge generation for both this and future outbreaks. The main objectives of Dr. Murthy's research are to expand a national platform for sharing data from patients hospitalized with severe acute respiratory infections and to develop a research infrastructure for rapid clinical trials.
He will also assess barriers to and facilitators of implementation of pandemic-specific clinical trials in Canada and conduct a priority-setting exercise for severe acute respiratory infection research to establish a framework for generating critical questions for responding to future pandemics.
A version of this story appeared on the Innovative Medicines Canada website and the UBC Faculty of Medicine website.