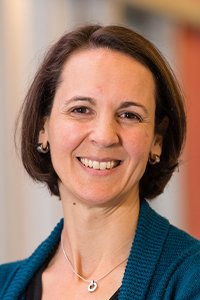 BC Children's Hospital investigator Dr. Mariana Brussoni wants to increase time spent by children in quality outdoor play in Early Learning and Child Care settings. This goal is sure to be made easier by an investment of $650,000 from the Lawson Foundation to the UBC Faculty of Medicine, where Dr. Brussoni is an associate professor. The project, PROmoting Early Childhood Outside (PRO-ECO): An Outdoor Play Intervention for Children Aged 3 to 5 Years in Early Learning and Child Care Programs, which has been co-developed with the YMCA of Greater Vancouver with support from scientific advisors and public health professionals, includes four core components:
Modifying outdoor play spaces 
Developing policies and procedures
Early childhood educator training and mentorship
Parent and caregiver engagement
"Studies have shown that outdoor play promotes physical and mental health in young children and helps cognitive and social development by inspiring them to interact with their peers and their environment – all benefits that many of us know instinctively,"
said Dr. Brussoni. "However, formal training and support for our educators has never been more critical, especially with the rapidly growing recognition of the importance of outdoor play in children's daily lives and future well-being." 
PRO-ECO is one of eight demonstration projects across Canada in which the Lawson Foundation is investing a total of $4.95 million to benefit Early Learning and Child Care across Canada. 
"I'm grateful for the Lawson Foundation's generosity," said Dr. Brussoni. "We can begin to address the lack of training in outdoor learning, enhancing government policy to benefit licensed child care facilities and ultimately help children and their families experience a richer, more rewarding outdoor play experience." 
Read more about Dr. Brussoni's work: 
Five reasons why kids need risk, fear and excitement in play
Kids bounce back quickly: Researchers find most childhood injuries don't impact quality of life in the long term
Credit: UBC Faculty of Medicine story, Jan. 19, 2021