Dr. Dimas Yusuf's journey from BCCHR Summer Student Research Program participant to Medical Oncologist with Fraser Health.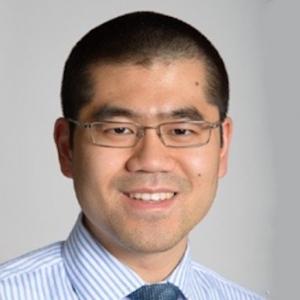 BCCHR's Summer Student Research Program has been providing valuable research experience to undergraduate students and medical school students for more than 34 years. Students attend from around the world to learn about the latest in medical research and receive training in skills such as collaboration and public speaking. 
Dr. Dimas Yusuf attended BCCHR's Summer Student Research Program in 2004, shortly after finishing high school. He is now an oncologist at Delta Hospital in Delta, British Columbia.
"Being surrounded by people at BCCHR who were very passionate about research and science was one of my main motivations in becoming a doctor." —Dr. Dimas Yusuf
We recently caught up with Dr. Yusuf to discuss his experiences in the BCCHR Summer Student Research Program.
How did you get involved in the BCCHR Summer Student Research Program?
I first participated in BCCHR's Mini Med School, which is an evening symposium for high school students who are interested in life sciences and are thinking of going into medicine. The topics covered when I attended included biology, genetics, and how these interact with the development of disease. 
During Mini Med School, I learned that there were three research positions over the summer and one of them was with Dr. Wyeth Wasserman's bioinformatics lab. I applied, was interviewed, and got one of the studentships! 
What were some of the highlights from the program?
At the beginning, they asked me to make a computer game called Whack-o-Possum so I could show and fine-tune my coding skills. Next, I built online software that allows researchers to compose a list of genes that they want to study and analyze in various ways. Within a year, that work was published and it was my first research paper. 
After my experience in the Summer Student Research Program and throughout my undergrad, I would work part-time in Dr. Wasserman's lab while school was in session, and then full-time in the summers. I got quite involved!
What were the biggest benefits of attending the Summer Student Research Program?
If it weren't for Mini Med School and then the Summer Student Research Program and connecting with Dr. Wasserman, my life would be very different. 
I had actually lost interest in science towards the end of high school and decided to do my degree in commerce at UBC instead. I even got an internship at a prestigious company and was on the road to becoming a banker. But my experience at BCCHR and working with Dr. Wasserman inspired me to return to the sciences and apply to medical school. 
Being surrounded by people who were very passionate about research and life science was a further motivation to stay in the field. I'm very grateful and I'm very happy with my career. I even met my significant other during residency! 
When I look back at my life so far, being able to go to Mini Med School and the Summer Student Research Program were the two things that had the most impact on the trajectory of my life. I'm 100 per cent sure that without these experiences, I would not be a doctor right now. 
What do you like most about being an oncologist and researcher?
As a cancer doctor, I most appreciate being there for people when they receive a life-altering diagnosis and getting them into treatment. They know when I've done my best for them and that means a lot to me. Also, this is a job where I get the opportunity to meet and interact with so many different types of people — colleagues, patients, industry representatives, and so on. I find it all very fun and inspiring.
I also do research on the side which helps my job as a doctor. The knowledge I get from research, especially in the field of cancer, helps me make important decisions regarding patient care. Research pays dividends in unexpected ways, and what I learn from research has improved outcomes for many of my patients. 
To read more profiles of past and present BCCHR Summer Student Research Program students and to keep on top of the latest research in child health, be sure to follow us on social media: