PBMC isolation, cryopreservation and thawing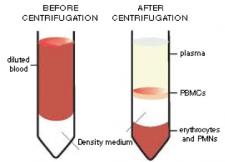 This consensus protocol was prepared by comparing multiple published protocols and the final protocol was reviewed by experts in the field.
Notes in the appendix discuss some key points of variation and cite literature or data to support the choice in this protocol.
Click on the link below to download the protocol. 
CAN-ASC consensus protocol: PBMC isolation, cryopreservation and thawing (current literature consensus) (PDF)
The following protocols are currently in development:
Detection of antigen-specific T cells by activation-induced markers (AIM assay) (Reference lab: Megan Levings, UBC)
Type 1 interferon nanostring assay (Reference lab: Joan Wither, U of T)
Please use the Q&A form for any questions or comments regarding protocol development or final SOPs. We will publish your question and our answer on this website for future reference.
Published protocols will also be available on protocols.io.