Training is an important component of the CAN-ASC initiative. As COVID-19 has forced us to delay our in-person workshops and travel awards for lab exchanges, we will be filling the gap with a series of webinars. These will focus on various aspects of translational human immunology research, ranging from the broad (sex & gender considerations, ethics) to the more specific (general best practices, detailed seminars on specific, commonly-used methods).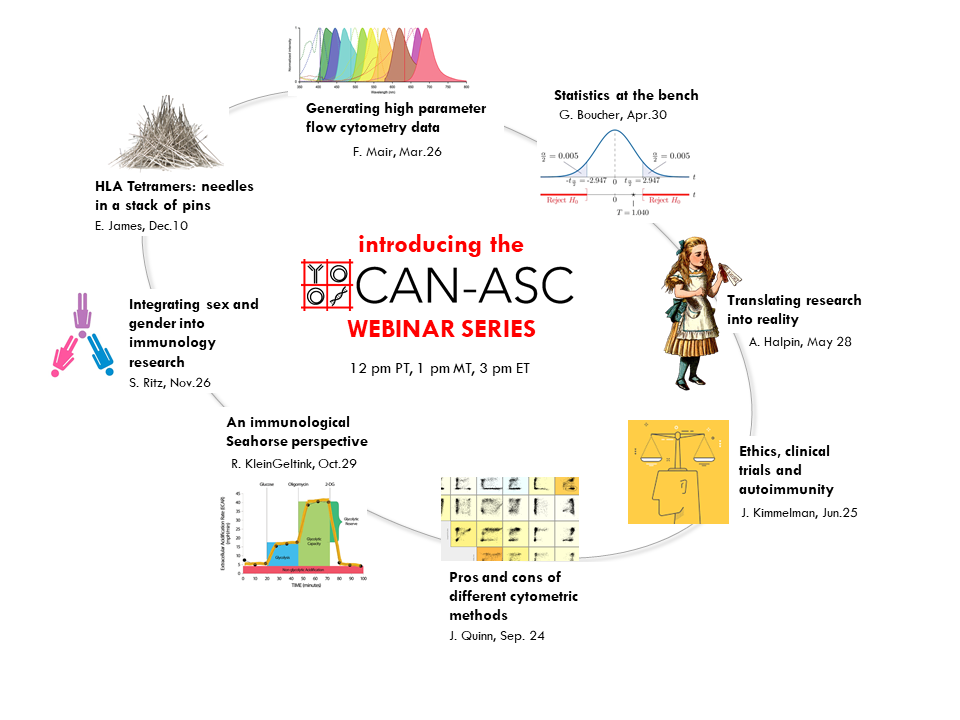 (See below for links to details about upcoming webinars.)
The webinars are aimed at trainees, technicians and investigators who are working in the field of human immunology (or are planning to).
To facilitate exchange and discussion, the focus will be on LIVE PARTICIPATION, and webinars may not be recorded. The webinars will be held on Zoom to allow in-person Q&A, and there will be an additional option for anonymous questions with upvoting.
Webinars will be on the final Friday of the month (exception: Dec. 10th). The host will speak for ~45 min and there will be an equal time for Q&A and discussion. Time: 12 pm PT, 1 pm MT and 3 pm ET. 
Webinar Registration and CAN-ASC mailing list
Registration and Calendar Invitations
Join our mailing list to receive notifications and reminders of upcoming Webinars (we promise to keep email traffic to a minimum).
Webinar details
MARCH 26: A step-by-step guide to generating high parameter flow cytometry data; Florian Mair PhD, Immunologist, Fred Hutchinson Cancer Research Center, Seattle.

Missed the webinar? You can view it here. 
 
Update April 6, 2021: Q&A and links from Florian's webinar.
 
APRIL 30: Statistics at the bench: Get the most out of your hard work; Gabrielle Boucher MSc, Biostatistician, Montreal Heart Institute.

Missed the webinar? You can view it here.
 
MAY 28: Translating Research into Reality: Building Bridges Between Research and Clinical Laboratories; Anne Halpin MSc, CHS, Laboratory Scientist, University of Alberta.

Missed the webinar? You can view it here.
 
JUNE 25: Ethics, clinical trials and autoimmunity; Jonathan Kimmelman PhD, Professor of Ethics, McGill University.

Missed the webinar? You can view it here:
Part 1
Part 2
 
SEPTEMBER 24: Automation in FlowJoTM software: A Guide to Using Automation to
Improve Data Quality and Reproducibility; John Quinn PhD, Director of Science and Product Development, FlowJo.
 
OCTOBER 29: Food for thought: an immunological Seahorse perspective; Ramon KleinGeltink PhD, Assistant Professor of Pathology, University of British Columbia. Details coming soon.
 
NOVEMBER 26: Integrating sex and gender into immunology research; Stacey Ritz PhD, Professor of Pathology at McMaster University. Details coming soon.
 
DECEMBER 10: HLA Tetramers: Searching for needles in a stack of pins;  Eddie James PhD, Assistant Member, The Benaroya Research Institute at Virginia Mason, Translational Research Program. Details coming soon.