Are you a Vancouver or Delta School Board staff member who would like to help Canada learn about COVID-19 transmission and immunity in schools?
Would you like to know if you were previously exposed to COVID-19?
Help researchers track COVID-19 and make our schools safer.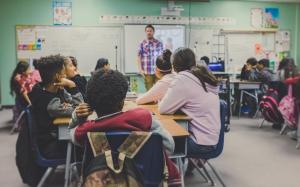 The main objective of this study is to determine the extent to which school workers can be exposed to COVID-19 as part of their occupation. Results of this study will be used to develop strategies to help make Canadian schools safer for everyone.
Who can participate?
Approximately 2,400 classroom staff and 500 administrators and other staff who work in the Vancouver or Delta School Districts will be recruited for this study. You are eligible to participate even if you've already had a COVID-19 infection or received the COVID-19 vaccine.
What does the study involve?
You will be asked to complete up to two online surveys and up to two blood tests (one in January and again in June 2021) to determine if you've been exposed to the COVID-19 virus and if vaccinated, how your body responds to the vaccine. A small number of participants who show a positive blood test will be invited back for a third blood test.
How will I complete the survey?
After you register and answer a few questions to make sure you are eligible for this study, you will receive a unique survey link via email.
Where do I complete the blood test?Blood collection sites will be located at various convenient locations. Once you complete the online survey, you will have the opportunity to book an appointment at any Life Labs location in the lower mainland, St. Paul's Hospital lab in downtown Vancouver or a VSB school clinic (for VSB employees only).
You will receive a small token of appreciation for your time ($20 e-gift card).
Will I receive the results of the blood test?
Yes, test results will be made available to you as a participant. 
How to Participate
If you would like to participate, click on the button below to see how you can qualify and register for the study. 
Register until May 15, 2021.
Where can I learn more information about the study?
Participation in this study is voluntary, you can choose to withdraw from the study at any time. If you have questions after reading the study information, please email abcovid@bcchr.ca or click on this link to get more details about the study.