When Sam Maloney was a baby, his poop was green. He was sick all the time. He wasn't thriving. Sam's mom Tara Blaney knew something was wrong. But it wasn't until he was 18 months old, weighing only 18 pounds, that Tara first heard the words "cystic fibrosis". She had never heard of it before and when she Googled it, her entire world changed.
"It was this kind of sinking feeling, and you feel like all the air is leaving the room. Everything, all the symptoms Sam had, were there," Tara remembers. "Of course, the internet isn't gentle about things. The word 'terminal' was in there. I felt like someone was taking my child from me."
Cystic fibrosis, or CF, is the most common fatal genetic disease affecting Canadian children and young adults. It causes severe damage to the lungs, digestive system and other organs. It's estimated that one in every 3,600 children born in Canada has CF. At present, there is no cure.
Sam's little sister was a newborn when he was first diagnosed, but turned out not to have CF. The Coquitlam family spent the next few years in and out of BC Children's Hospital for Sam's care, sometimes for months at a time. They learned how to administer Sam's daily hour-long physiotherapy exercises.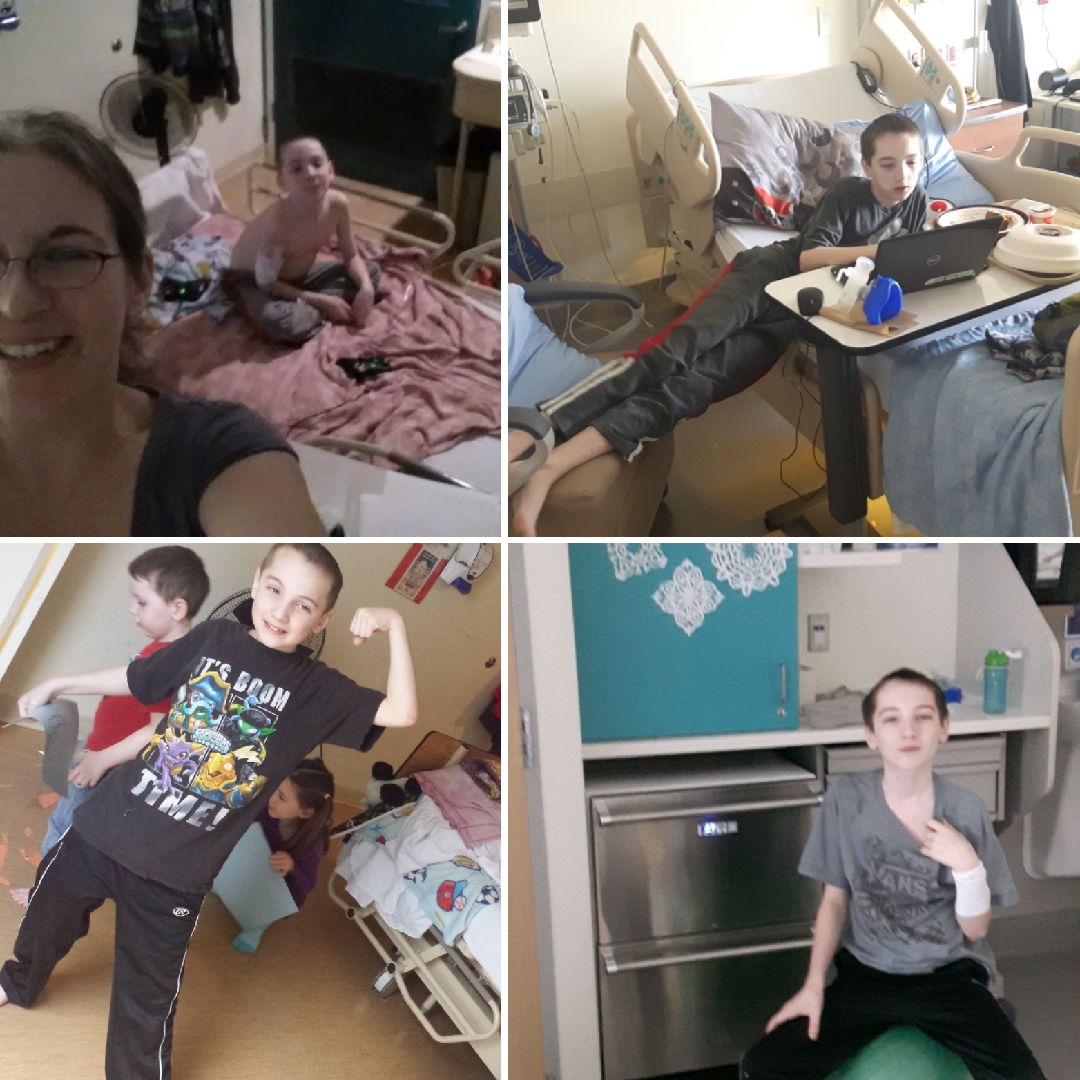 Then Andrew was born. During pregnancy, Tara found out her youngest son also has CF. Now a typical day involves two hours every morning and night administering inhaled medications and physiotherapy for each boy. There have been lengthy hospital in-patient stays for "tune-ups," and on top of that, the CF Clinic is a full day at the hospital every two or three months. – And so much hinges on routine lung function tests to see how Sam's and Andrew's lungs are faring.
"It is a very full and exhausting day and usually leaves me drained. Think 10 hours of intense college finals, and you can't study to get a better grade," Tara comments.
Improving diagnostic tools to help improve care
Patients and care teams may also not be getting the most accurate information. These traditional routine tests are notoriously unreliable in younger patients, according to Dr. Jonathan Rayment. The BC Children's Hospital researcher and pediatric respirologist specializes in the care and treatment of children living with CF and rare lung diseases.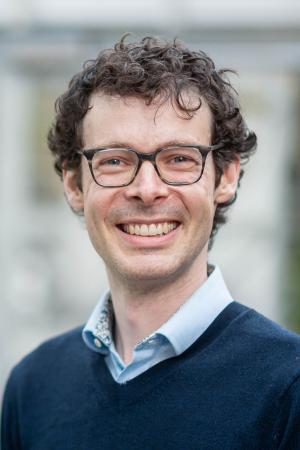 Spirometry, one of the main tests for lung function, measures the amount of air you can breathe in and out of your lungs. It's a difficult test for younger kids. Dr. Rayment explains, "It's been around for more than a hundred years but it isn't a very sensitive test for early lung disease. For example, when they move from a pediatric to adult clinic at 18, more than half of the kids with CF in Canada have lung function that is technically in the normal range according to spirometry results. But this is missed disease that we know is there."
Dr. Rayment has made it his mission to develop better tools to quantify lung disease or lung health in children. 
"My goal is to create tools that are easy to perform, can pick up early disease, and provide clinically meaningful results that tell us something important to improve the care," he states.
New fpMRI technology could be a game changer
Dr. Rayment and his team have recently made a huge leap forward. In 2020, they were the first in western North America to create innovative functional pulmonary magnetic resonance imaging (fpMRI) scans of human lungs.
"The technology difference is like comparing a horse and buggy to a Tesla. It gives you so much more sensitivity, like the difference between a magnifying glass and high-powered confocal fluorescence microscope," says Dr. Rayment.
"The current tests, such as spirometry, provide whole lung measurements. They don't indicate if you have a little patch of disease in one specific spot, which may not show up on spirometry until the disease is really bad or has spread. But these fpMRI scans show very detailed lung function maps and can pinpoint specific areas of concern early on in the disease process."
One fpMRI method uses xenon, a harmless inert gas that is most often used in high-intensity lights, to make these lung health maps. The gas is transformed into a hyperpolarized state by a special machine, the xenon hyperpolarizer. The patient inhales the gas and holds their breath for 10 seconds while undergoing an fpMRI scan. The hyperpolarized xenon shows up in the images in high contrast, providing detailed information that has never been previously available. The other bonus is, unlike computed tomography (CT), there is no radiation with the fpMRI.
Now, Dr. Rayment and his fellow researchers are using this promising tool to study ways to improve diagnoses and treatments for children with CF and other lung diseases such as asthma.
More research needed before technology is used clinically
The BC Children's MRI Research Facility is one of a dozen research centres across North America and the U.K. that are part of a xenon fpMRI clinical trials consortium. A key part of the group's work is to standardize protocols and processes, as this will be critical in moving the technology from research to patient care.
"We have the device, but you have to be able to tell the device what to do and then figure out how to analyse the information to make it usable in the clinic," Dr. Rayment elaborates. "Right now, we are working on simple questions, such as 'If I scan you twice today, and again in a month, will the images look the same?' or 'Is this sensitive enough to detect underlying states of disease?'"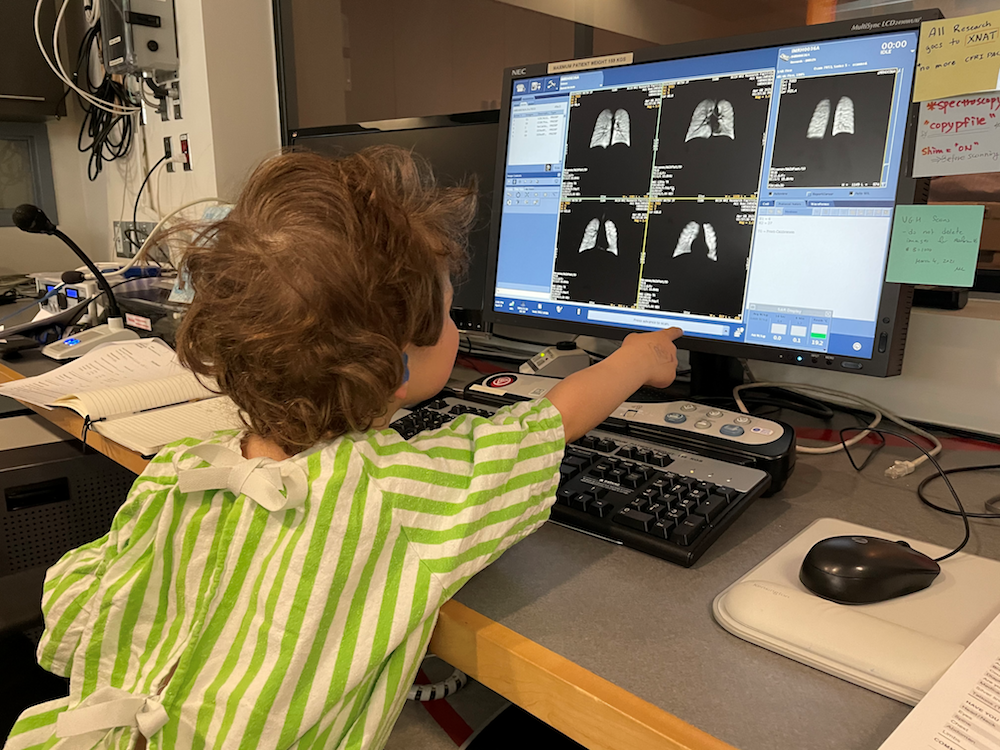 Vancouver is uniquely positioned in this emerging field of research as it is the only place in the world to have a pediatric and adult xenon hyperpolarizer facility in the same city. Dr. Rayment and his team at BC Children's have collaborated closely with their colleagues at St. Paul's Hospital, where the adult facility is located. (The hyperpolarizer at BC Children's was supported by the BC Children's Hospital Foundation and the Canada Foundation for Innovation.) The new technology could also prove to be an important tool in studying recovery from COVID-19.
Providing hope to children with CF
It's still early days for xenon fpMRI technology, but researchers and patients are excited about the potential. Kids like Sam and Andrew and their families are especially enthusiastic about a project that monitors the effectiveness of the new generation of CF drugs. The cystic fibrosis transmembrane conductance regulator, or CFTR, modulator therapies, such as elexacaftor-tezacaftor-ivacaftor (sold under the brand name Trikafta in Canada), correct the malfunctioning protein made by the CFTR gene.
The drugs have completely transformed life with CF for many patients, including 14-year old Sam. He started them a year ago.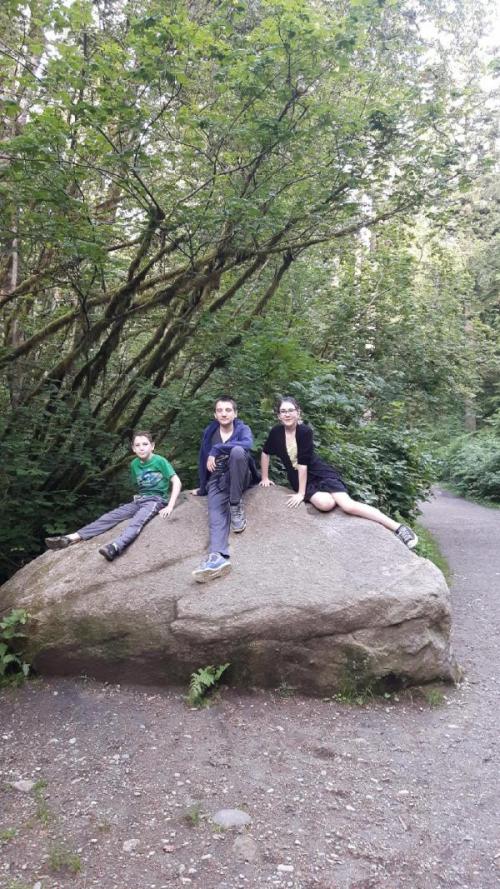 "I used to always be tired and not very energetic, and when I'd play tag with my friends, I always got picked as 'it' because they knew I'd never be able to catch them," Sam says. "But now I can outrun my friends and catch them during tag and they make excuses as to why they are so slow."
The CFTR modulators are so effective, Dr. Rayment and other specialists believe 'modulated CF' may be a different disease from CF, so gathering as much information as possible is vital. He says, "We have this huge infrastructure and treatment regimen that has been built up over decades that works for CF. But does it work for modulated CF? Do we really need all that stuff, or can you take some things away? Can you change the whole treatment paradigm because of this game-changing drug?"
He is using xenon fpMRI to study kids with CF, including Sam, who are taking CFTR modulators to look at their detailed lung function over time. "The dream is that you get improvement in all of your lung function parameters and that they stay the same and don't decline over time," says Dr. Rayment.
So far, the results for Sam are stunning. Tara recalls, "Dr. Rayment walked in the room after the scan and he was speechless. He just kept saying, 'Wow, the difference this drug has made is WOW. Wow!!'"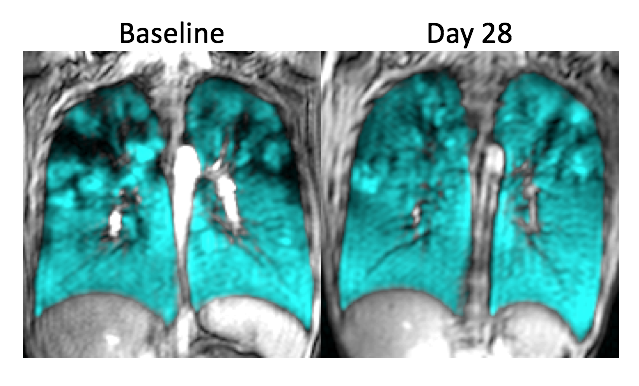 The family just got the good news that nine-year old Andrew has now been approved to start Trikafta. And Andrew is just as excited as his big brother to also take part in research that will help other kids like him.
"I'm excited for the CF babies I see today. Just recently we met another family in the lab. They were waiting for a test to confirm their child's CF diagnosis," says Tara. "I told them there have been so many incredible advances and there is so much more to help our kids. For kids who are born today, a diagnosis of CF is completely different than when we first started on this journey more than a decade ago."