After a difficult start in spring 2021, high-income countries are seeing their citizens vaccinated against the deadly COVID-19 virus in huge numbers. As of Aug. 16, 2021, 73 per cent of the Canadian population has received at least one dose of a COVID-19 vaccine. Several other high-income countries have reported comparable numbers; the United Kingdom is at 70 per cent, and Spain is at 74 per cent coverage. 
In contrast, only 1.3 per cent of people living in low-income countries have received at least one dose. Presently in the Africa region, 14 countries have reported a surge in the number of cases of COVID-19, with the Delta variant driving this uptick.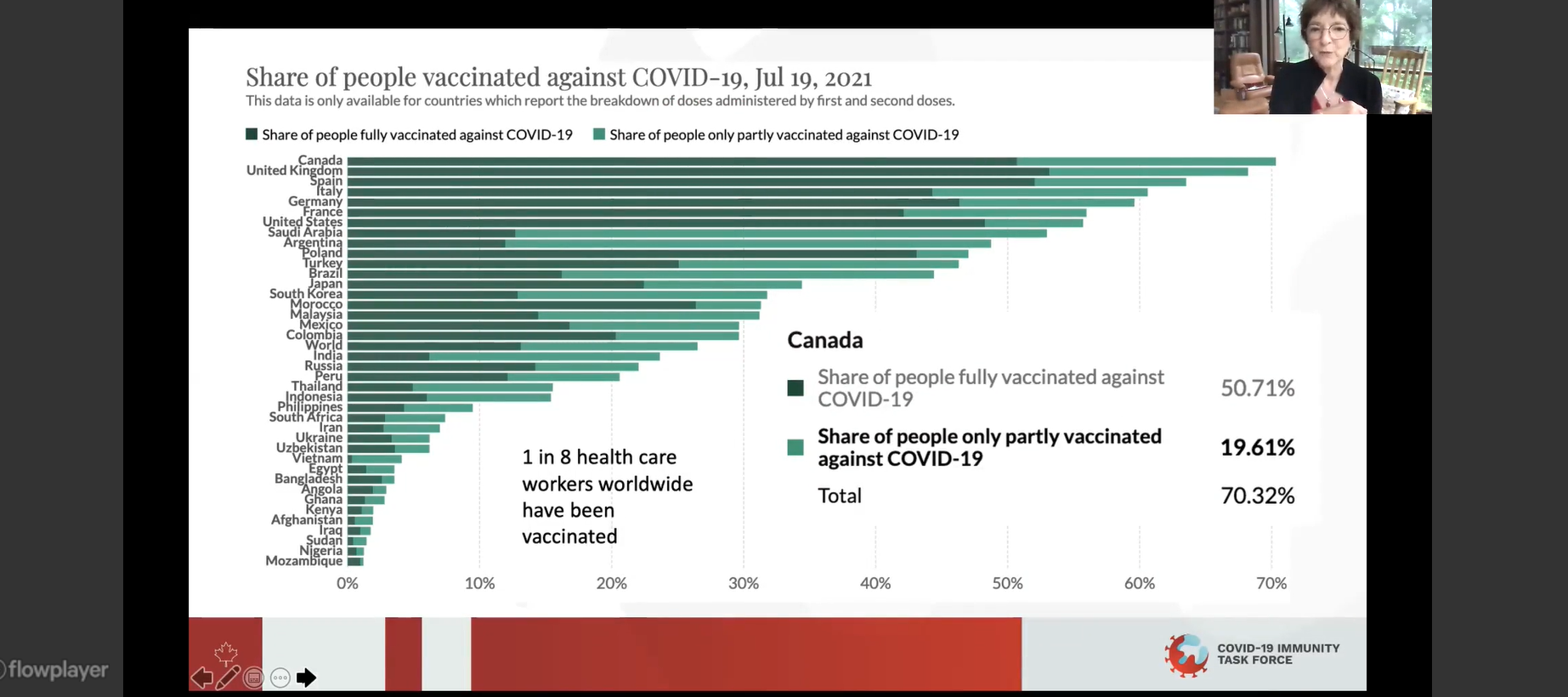 A group of expert panelists from around the globe laid out this global vaccine inequality in a virtual gathering July 21, 2021 entitled, "The Road to Equitable Vaccinations for COVID-19 in Global Settings." On the agenda: discussing the current pandemic outlook and providing recommendations on how leaders can make the greatest impact towards halting the pandemic. BC Children's Hospital's Centre for International Child Health and the Healthy Starts team at BC Children's Hospital Research Institute hosted the online panel and discussion session.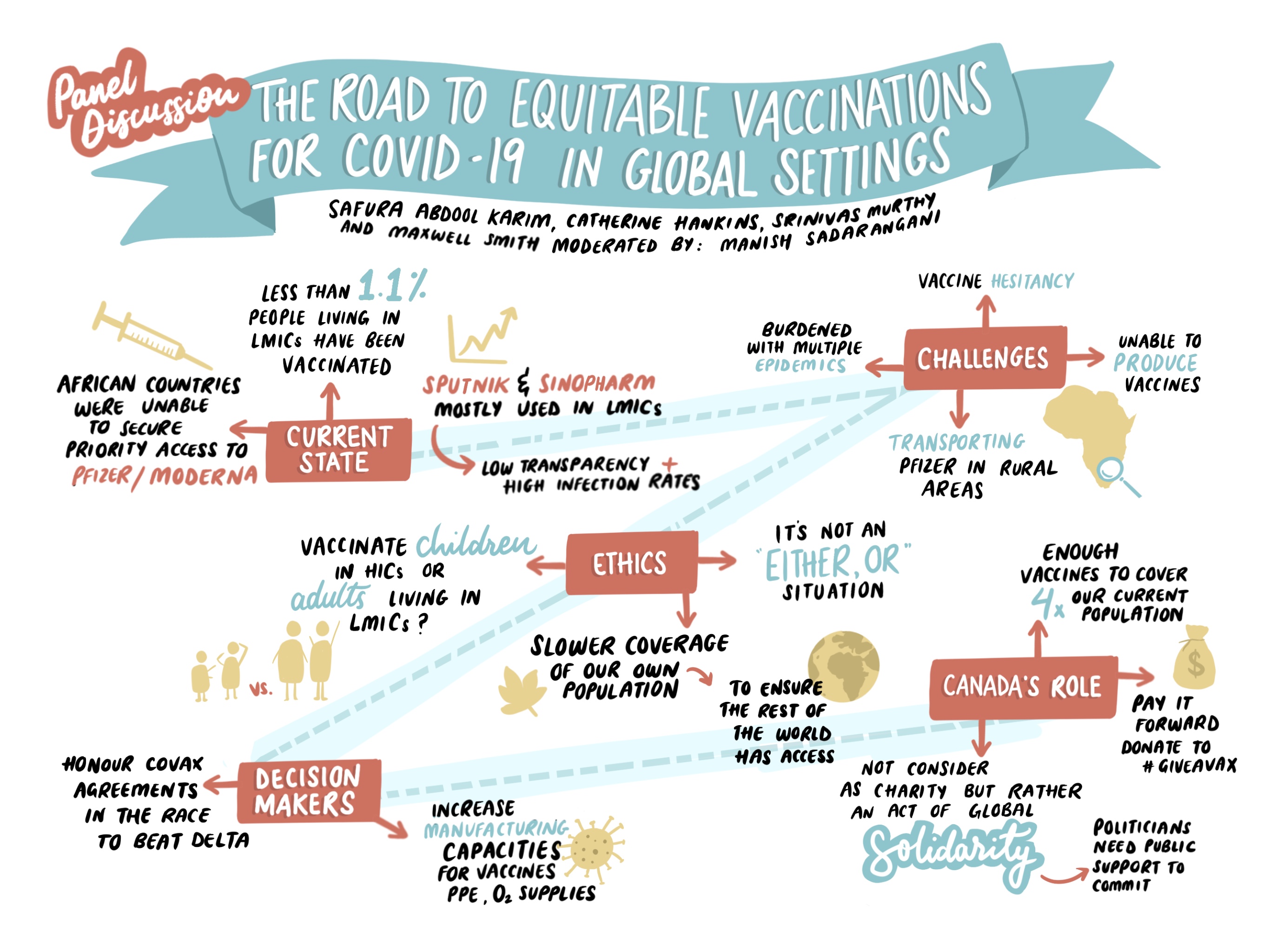 Ethical considerations in immunizing children in high-resourced settings kicked off the program, along with the "how" of enabling vaccine access for large unvaccinated populations in low- and middle-income countries. The panelists expressed anger and frustration at the lack of progress in most nations. Dr. Catherine Hankins, co-chair of the COVID-19 Immunity Task Force and McGill University professor of Public and Population Health, said the pandemic represents the "biggest failure in global solidarity we've seen yet."
Only one-eighth of health-care workers around the world are fully vaccinated, Dr. Hankins noted.
"Our successes are almost directly because the rest of the world is yet to get adequate vaccination coverage," said Dr. Srinivas Murthy, clinical associate professor in the department of pediatrics at the University of British Columbia (UBC). Dr. Murthy is a pandemic preparedness research chair, specializing in pandemic clinical research infrastructure. "Our 80 per cent is only possible because only one per cent of the world in low-income countries can get vaccines."
Said Safura Abdool Karim, senior researcher at the University of Witwatersrand, South Africa, and a member of the African Vaccine Delivery Alliance: "Less than 1.1 per cent of all people living in low-income countries have been vaccinated. That is something to pause and reflect on when we see coverage rates in excess of 70 per cent in wealthier countries." She further addressed the sparse coverage of vaccine coverage in the African region, noting, "That is not an accident; that is global health inequities made manifest."
"Many of the region's countries that have achieved higher vaccination rates have done so without vaccines such as Pfizer or Johnson & Johnson, but with vaccines that are not as effective," said Karim, referring to a roughly nine per cent vaccination rate in South Africa.
"That is what was offered and available to be sold to us. We've seen a lot of high breakthrough rates, and the vaccines have not been effective against newer variants."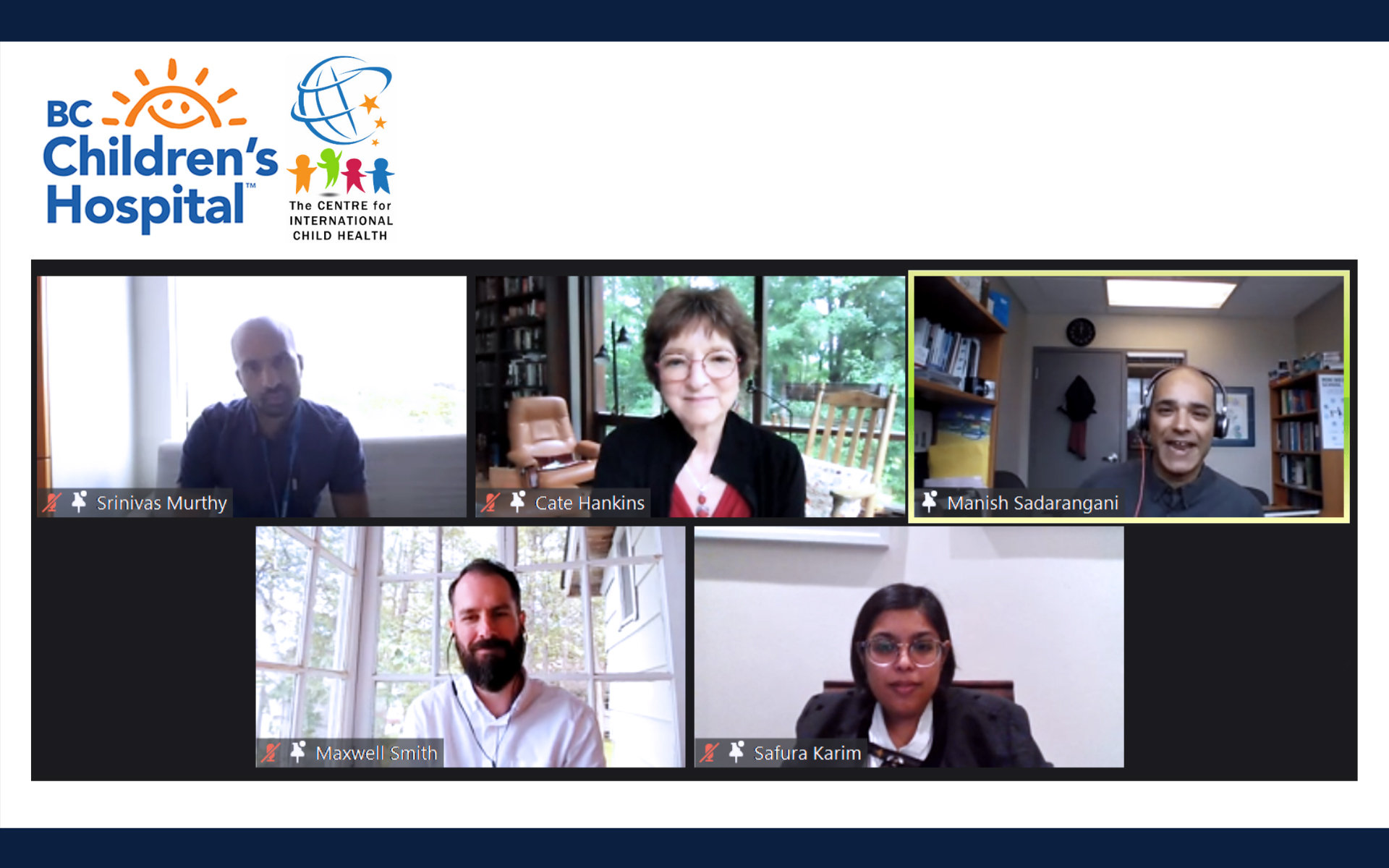 Dr. Manish Sadarangani, an investigator and director of the Vaccine Evaluation Center at BC Children's Hospital and associate professor in UBC's department of pediatrics, moderated the event. Some 70 participants tuned in to listen and debate with panelists, including Public Health Agency of Canada Public Health Ethics Consultative Group Member Dr. Maxwell Smith, also assistant professor at Western University's Faculty of Health Sciences and co-director of the Health Ethics, Law and Policy Lab.
The panel reflected on calls to action for global leaders, with top recommendations including:
Global solidarity and investment in pandemic measures
Dr. Hankins shared a report from the International Monetary Fund predicting a requisite $50 billion investment globally in pandemic measures estimated to have a $9 trillion return by 2025.
Strengthening health-care systems in low- and middle-income countries, including manufacturing capabilities for vaccines and Personal Protective Equipment, to reduce the need of relying on high-income countries
"Global inequity to access around medicine and biotechnology is not a new problem," Karim said. "This pandemic has exposed a systemic problem and if we don't address it, it will continue being the problem moving forward."
Strategic slowing of vaccinations in certain populations in high-income countries to share with low- and middle-income countries
"What sacrifices are we willing to make in order to address these inequities?" asked Dr. Smith. "One might be slowing vaccinations in certain populations in our own countries to share with other countries…We need a very clear strategy about how we will vaccinate the rest of our population while sharing our vaccines with rest of world."  
Honouring COVAX contracts before bilateral deals
"Canada needs to pressure manufacturers to honor COVAX contracts before ours as vaccines become available," said Dr. Hankins.
"Donate all possible doses now, before September, in a race against Delta [COVID-19 variant]. We need to make this investment now. It is absolutely critical."
Canadians can #GiveAVax by donating to UNICEF Canada's fundraising campaign. The Government of Canada will match donations made by September 6, 2021 by up to $10 million.
Watch the recorded session.
Watch video clips from the panel.
Credit: UBC Vice-Provost International