Dr. Srinivas Murthy, a critical care specialist who is also trained in infectious diseases and an investigator at BC Children's Hospital, is leading new high-quality research on COVID-19 treatment to help Canadians and people around the world.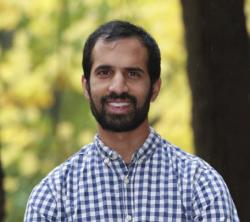 He is the principal investigator of the CATCO (Canadian Treatments for COVID-19) trial which will evaluate different treatments such as antiretroviral drugs and anti-malarial drugs for COVID-19 patients in hospital.
"As the number of severely ill patients with COVID-19 continues to increase, we must learn as much as possible about this disease, as quickly as possible, to inform patient care," says Dr. Murthy. 
The CATCO trial is part of a multinational initiative called the Solidarity Trial which is being coordinated by the World Health Organization (WHO) and supported by the Canadian Institutes of Health Research (CIHR) in an unprecedented level of global collaboration.
Dr. Murthy studies severe infections and how best to manage critically-ill patients. He is also a clinical associate professor in the department of pediatrics at the University of British Columbia.
"As the pandemic evolves, the temptation to use unproven medications will be tremendous, but we must maintain a commitment to good science and the rigorous gathering of best evidence, in collaboration with global colleagues, so that we may quickly improve outcomes for all patients with COVID-19 worldwide," said Dr. Murthy.
Patients are eligible for the CATCO trial if they require hospitalization for COVID-19 at one of dozens of participating hospitals, with the number of participating hospitals increasing rapidly. 
"In pandemics such as COVID-19, unapproved, experimental medications are already being used outside of clinical trials," says Dr. Murthy. "That's why it's critical that we use randomized clinical trials to assess what works as opposed to unproven treatments that may be harmful or at the very least ineffective."
Results from the trial will provide clinicians with evidence-based research on which drugs can be used to treat the virus in a way that is safe for patients. Current treatment options for COVID-19 are focused on providing high-quality supportive care. 
Data collected from participating hospitals will be submitted to a central repository managed by the WHO. Ultimately, the Solidarity Trial will enroll thousands of patients from dozens of countries.
The CATCO trial is being conducted with support from CIHR, and through the Canadian Critical Care Trials Group and the Association of Medical Microbiology and Infectious Disease Canada.