BCCHR's People in Focus Series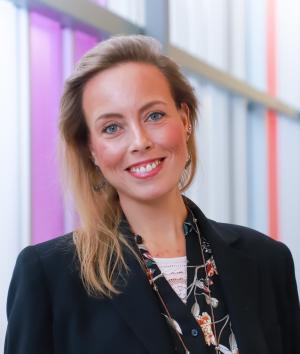 Thousands of Canadian children have neurodevelopmental conditions, such as autism, attention deficit/hyperactivity disorder (ADHD), and developmental coordination disorder (DCD). Knowing what parts of the brain are communicating too much or too little may lead to more accurate ways of diagnosing and treating these conditions. 
Dr. Christine Tipper of BC Children's Hospital is improving brain imaging technology and conducting research to advance our understanding of what is going on in the brain that leads to particular symptoms. This understanding may one day lead to new interventions that are highly individualized and as unique as each child. 
"Right now, diagnosis of developmental conditions is, in part, subjective — there can be some variation depending on who is doing the assessment. And some are not getting diagnosed until their teens or even adulthood. My colleagues and I are hoping to develop a finer 'measuring stick' to help facilitate earlier and more accurate diagnosis of developmental conditions in kids." —Dr. Christine Tipper
1) Dr. Tipper's Work Is Making Brain Imaging Research More Accessible…and Less Scary!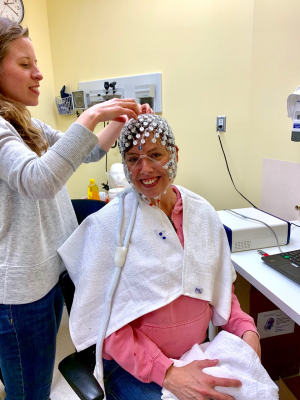 Functional magnetic resonance imaging (fMRI) is a great way to measure brain activity, but fMRI machines cost a lot to operate and can be too loud and scary for some kids. Those with claustrophobia, for example, can find fMRI procedures particularly uncomfortable.
"What we're doing now to fix this problem is focusing more on EEG — electroencephalography, which gives us a really good way of showing what's happening inside the brain. Our high density array EEG cap has 256 electrodes, so we're able to do more with it than we could with a typical EEG."
The best thing about the high density array EEG cap is that it's comfortable for the child wearing it.
"When you put the EEG cap on, you may feel a little tingle at first, but that's it. Each electrode has a tiny sponge that is dunked in a solution of electrolytes — basically salt water — which helps the sponges touch the scalp and make a connection. You just pull the strap over your head, we ensure the electrodes are in place, and that's it," said Dr. Tipper.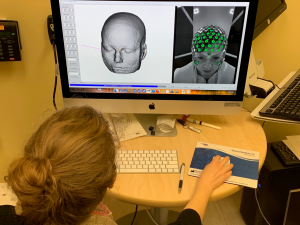 "Most kids find it quite enjoyable — it's like a little head massage. When you're done, you just take off the cap and you've got beach hair for the rest of the day!" 
2) Her Dad's Unexpected Archaeological Find Made Her Want to Become a Scientist 
"I knew I was going to be a scientist when I was four years old. My dad was in construction and one day, while digging a ditch with his machine, he came across a pair of 2,000-year-old corpses! They were actually a couple and were arm in arm — both had arrows in their backs and were found face-down," Dr. Tipper explained. 
"They had UBC Archaeology students out there excavating and they spent about a week just collecting the beads that they'd been wearing. My dad came and picked me up out of daycare, saying, 'Honey, you gotta see this, you gotta see this!' And they let me go down into the pit with them, they let me wiggle their teeth and showed me how to use the little archaeology brush. And I was hooked."
But it wasn't a straight path to studying the brain. 
"First I was interested in dinosaurs, then chemistry, and then I thought about genetics — but that means biology and I had an aversion to biology at the time — which is weird, because now all I do is look at brains!"
It wasn't until sometime in high school when Dr. Tipper knew that she wanted to understand the human mind as much as possible.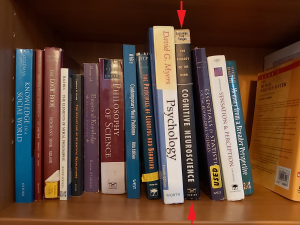 "Then in my second year of college, I was studying in the grass, reading my textbook — actually it was this textbook right here — and I thought, 'Yeah, okay, this is it. This is what I'm doing! Wow — they have this thing where you can look inside the brain! You can actually see what it's doing!' I knew at that moment exactly what I was going to do." 
3) Dr. Tipper's Goal to Better Understand the Human Mind Began in the Arts
Dr. Tipper received her Bachelor of Arts and Master of Arts in Psychology from the University of British Columbia. She then went on to get a PhD in Cognitive Neuroscience, also from UBC. She was attracted to the research side of things and knew that she wanted to help kids and families through her work. 
"My PhD research at UBC was focused on understanding how human attention works in the real world. I was interested in virtual reality and big immersive displays, but what I got really excited about was the idea that the most important cue for our attention and awareness is other people," Dr. Tipper said. 
"For my postdoctoral research, I went to the University of California, Santa Barbara, and worked on the question of how we perceive actions in other people. I'm always drawn to the social element."  
4) When She's Not Researching the Brain, She Is Usually Outside or on a Yoga Mat
"I'm really an outdoorsy nature lover. I love all kinds of outdoors activities — sports, hiking, rollerblading, snowshoeing, and camping. And I love yoga. I've been practicing for 24 years or so now." 
This long-standing interest in yoga has influenced how she views the mind and body. 
"I believe in the power of the mind, for example, in that I think we have a bit more control over our physical selves than we think. And I think it's important for kids to learn about this." —Dr. Christine Tipper
"In fact, one of my main current projects is aimed at promoting youth learning about mental health and lifestyle strategies to manage and reduce anxiety and stress. I have teamed up with pediatrician and researcher Dr. Tim Oberlander who, over the past several years, has set up a partnership with high schools in the Vancouver School District in an effort to promote new curriculum goals emphasizing life skills to support good mental health. My grad student, Ella Weik, has developed a class about the mind-body-brain connection that we're teaching in three different high schools now. The next planned study will evaluate the effectiveness of how kids respond to the class — and whether they feel they have stronger coping strategies before and after."
5) Dr. Tipper Wants Families to Know the Importance of Their Participation in Research
Major advances in children's health would not be possible without children and families who participate in research studies. Dr. Tipper thinks that these participants don't realize just how important they are to medical research. 
"Sometimes participating in research can feel a little bit empty, because you show up, you give your samples or we scan your brain, then you get your 20 dollars or your gift card, and then you leave. I want you to know how much we value your participation and your contribution to research. None of it would be possible without you," Dr. Tipper said. 
6) She Is Excited About the Level of Individualization that Brain-Targeted Treatments Could Provide
When it comes to neurodevelopmental conditions, a cure is not possible nor is it the goal. 
"What we hope to be able to do is help find the best techniques to work with the individual. We want to find ways to better characterize an individual's unique case, which may provide pointers toward intervention to help with reduction of certain symptoms."
No two people with the same neurodevelopmental condition are alike. They all exhibit or experience different characteristics and traits to varying degrees. In fact, many individuals with neurodevelopmental conditions — such as many autistic people — do not feel the need for any treatment. Others only wish to target specific symptoms, such as anxiety or co-occurring health problems.  
"Some day we may be able to deliver very targeted, very mild currents to the brain to enhance activity in circuits that are already there but might not be firing together adequately," said Dr. Tipper.
"No two individuals would receive exactly the same treatment." 
7) Dr. Tipper Is Involved in the Exciting Field of "Omics" Research
Omics-based approaches are a key part of personalized medicine, or healthcare that is tailored to the individual. Data from various fields like genomics and proteomics (the study of proteins in the human body) provide insight about the individual patient along with key information about the population to which the individual belongs. 
Dr. Tipper's work is helping to advance personalized medicine approaches for youth with neurodevelopmental conditions.
"I have teamed up with Dr. Suzanne Lewis to launch a new study that looks at EEG test results together with a bunch of the 'omes': genome analysis, proteome analysis, microbiome analysis, metabolome analysis, and so on. We're hoping that this multi-omics approach will improve our ability to help youth aged 13-18 who have been diagnosed with autism."