Past Events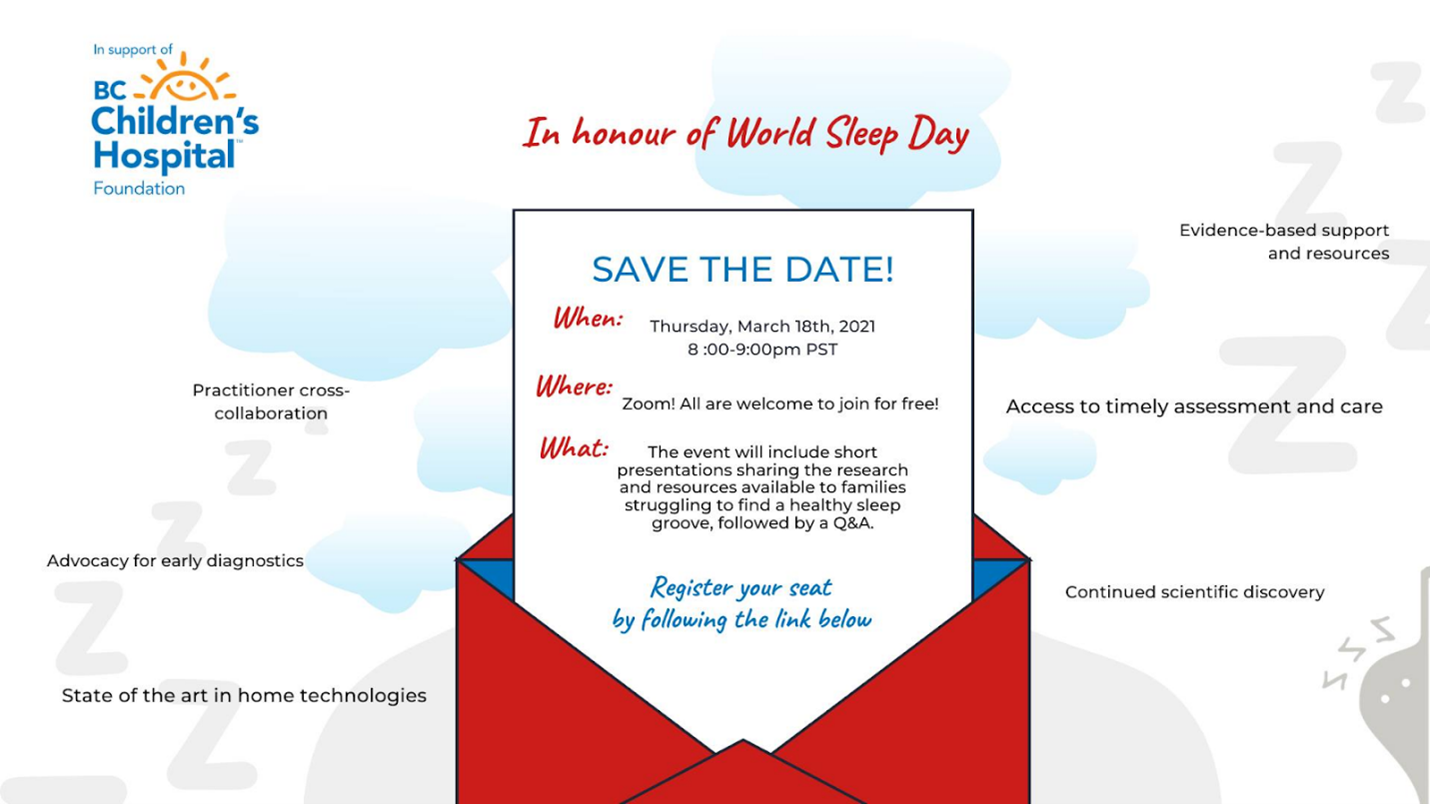 World Sleep Day Seminar
Thursday, March 18, 2021
8 - 9 p.m. (PDT)
All are welcome to attend!
Register for the World Sleep Day Seminar
To kick off World Sleep Day (March 19), clinicians and research teams at BC Children's Hospital Research Institute are hosting a virtual World Sleep Day Seminar on Thursday, March 18 from 8 - 9 p.m.
Please join us to learn more about sleep-related research and care taking place at BC Children's Hospital. The event will include short presentations from clinicians and research teams across our site to share their work and resources available to families, followed by a Q&A at the end. Everyone is welcome!
The event will be hosted using Zoom, and speakers will include:
Dr. David Wensley, FRCPC, Clinical Professor, Division of Respiratory Medicine, Department of Pediatrics, UBC; Medical Director, Polysomnography Laboratory, BC Children's Hospital
 

Dr. Ben Pliska, Orthodontist, BC Children's Hospital; Investigator, BC Children's Hospital Research Institute; Associate Professor, Department of Oral Health Science, Faculty of Dentistry, University of British Columbia
 

Dr. Denise Gassner, Infant and Family Sleep Specialist & Founder of There's a Monster in My Closet, Inc.; Lecturer, Integrated Sciences, Faculty of Science, University of British Columbia
 

Danielle Burch, Project Manager, Health Promotion & Health Literacy, BC Children's Hospital
 
| | | |
| --- | --- | --- |
| Dr. Osman Ipsiroglu, Investigator, BC Children's Hospital Research Institute; Clinical Associate Professor, Divisions of Child & Youth Psychiatry, Developmental Paediatrics & Respirology, University of British Columbia | Dr. Smita N. Naidoo, MD, FRCPC, MPH, and Andrea J. Bell: Founders of Paperclouds / ZzzPower for Schools. Dr. Smita Naidoo is a clinical faculty member at the University of British Columbia, a Doctor of Child and Adolescent Psychiatry in Metro Vancouver (at Foundry Ridge Meadows and Three-Story Clinic) | Dr. Elizabeth Stanford, Head of Psychology, BC Children's Hospital, BC Women's Hospital, Sunny |