On March 11, 2019, BC Children's Hospital Research Institute hosted the Canadian Institutes of Health Research for the announcement of $1.7-million in funding for early career investigators conducting high impact research in maternal, reproductive, child and youth health. The recipients of these grants include Dr. Manish Sadarangani, investigator and Director of the Vaccine Evaluation Center at BC Children's Hospital and Sauder Family Chair in Pediatric Infectious Diseases at UBC, who will study the pertussis, or whooping cough, vaccine to improve worldwide prevention of this dangerous infection. 
More information about these awards and the recipients is available in the CIHR news release. 

Speakers at the event included Dr. Shoo Lee, the Scientific Director of the CIHR Institute of Human Development, Child and Youth Health (IHDCYH) and Dr. Allison Eddy, Chief of Pediatrics and Hudson Family Hospital Chair in Pediatric Medicine at BC Children's Hospital and Professor and Head of the Department of Pediatrics at UBC. Both Dr. Lee and Dr. Eddy highlighted the importance of these grants in spurring leading-edge research that will help children and families get the best possible start so they can enjoy a lifetime of health.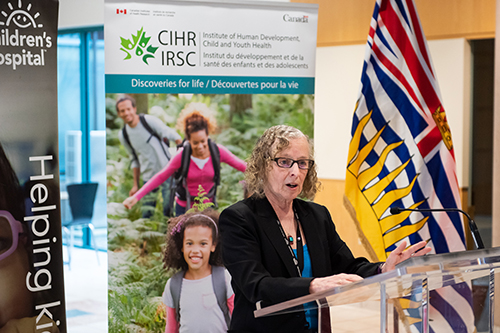 Dr. Sadarangani spoke about his work studying the protective antibodies the body creates in response to pertussis vaccination to better understand how the vaccine works. His ultimate goal is to improve the prevention of pertussis, which can be life-threatening in infants and young children, and advance scientific understanding of how vaccines work.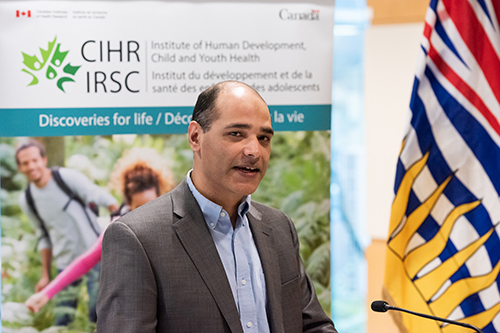 Following the announcement, Dr. led a tour of the Vaccine Evaluation Center for the other speakers and members of the media.
To hear Dr. Sadarangani's remarks at the announcement and get a look inside the Vaccine Evaluation Center's state-of-the-art facilities, watch this video by the Vancouver Sun:
 
The announcement also highlighted the IHDCYH Talks competition, which gives researchers the opportunity to submit short videos that present a clear, evidence-based message to a general audience. The competition helps profile impactful research and share important information about maternal, reproductive, child and youth health with families.

This year, Dr. Matthew Wiens, a UBC postdoctoral fellow supervised by BC Children's Hospital investigators Dr. Niranjan Kissoon and Dr. Mark Ansermino, won first place in the IHDCYH Talks competition for his video showcasing the Smart Discharges project. Smart Discharges is an initiative based out of the Center for International Child Health at BC Children's Hospital that aims to reduce preventable deaths following hospital discharge for children in middle- and low-income countries. 
You can watch Dr. Wiens' winning video here:
 
Negin Riazi, a UBC PhD candidate in the School of Kinesiology, was the runner-up in the IHDCYH Talks competition, and spoke at the event. Her video shares the Canadian 24-hour movement guidelines for children 0-4. You can watch it here.