Using Genomics to Diagnose, Treat and Prevent Primary Immunodeficiency Diseases (PIDs) in Children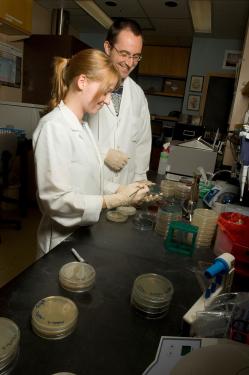 Primary immunodeficiency diseases (PIDs) are a group of genetic disorders in which parts of the immune system are missing, dysfunctional or poorly regulated. PIDs interfere with essential protective immune functions, greatly enhancing susceptibility to infections, autoimmunity, inflammation, and certain malignancies. PIDs are defined as a rare disease but are not actually that rare as prevalence rates range from 1:2000 to 1:10,000.
The study of PIDs has played a critical role in expanding our understanding of the immune system and informed the development of treatment strategies that have applications far beyond PIDs. We use the power of whole exome sequencing to identify genetic mutations; these mutations are then characterized using functional experiments. Our research has two main goals: to increase awareness and understanding of the genetic and molecular mechanisms of PIDs and to identify new therapeutic targets and molecularly-targeted 'precision immunology' therapies.
Early-life Origins of Asthma and Allergic Diseases
Asthma is the most common chronic non-communicable disease affecting children and adults. As many as 1 in 3 Canadians will be diagnosed with asthma in their lifetime, often during childhood. Many studies have confirmed there are striking increases in the incidence and prevalence of asthma in recent decades. Yet we still do not understand what causes asthma or why it develops in some people but not others. As with other non-communicable diseases, gene-environment interactions are predicted to play a critical role in the pathophysiology of asthma.
Recent work in our lab, in collaboration with Dr. Brett Finlay, has identified evidence that links the development of asthma to microbial imbalances in the intestine (dysbiosis) and to associated microbe-dependent metabolic and epigenetic changes. We are working to further understand these changes in hopes of establishing early life microbial biomarkers that may be used to predict risks of disease and to develop primary prevention strategies based on modifying the composition of the intestinal microbiome.
The Canadian Healthy Infant Longitudinal Development
(CHILD) Study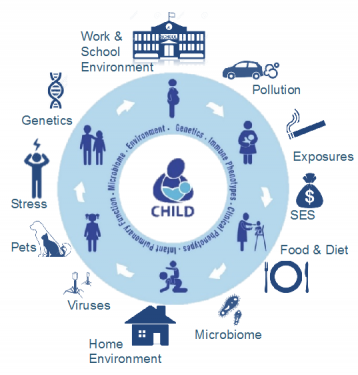 The Canadian Healthy Infant Longitudinal Development (CHILD) study was launched in 2008 as a platform for defining risk factors for asthma and allergy in children (childstudy.ca). CHILD study is a fully-recruited, population-based, and finely phenotyped birth cohort of 3,495 infants in 4 provinces (Ontario, Manitoba, Alberta and British Columbia) across Canada. Data collected from this study is longitudinal over the lifetime of the study and focuses on health, genetics, epigenetics and environmental exposures.
The Vancouver, BC site, led by CHILD study co-PI, Dr. Turvey is run out of the BC Children's Hospital. At our site, 783 families began the study and over 93% of these remarkable and generous families have remained in the study up until their child's fifth birthday. We continue to follow our families and work with them as their children grow. We have just begun our 8 year visits and we look forward to catching up with our families in clinic.