Vaccine development
 
Once vaccines rolled out, BC Children's investigators were again at the forefront of COVID research. That's in part because BC Children's is home to the Vaccine Evaluation Center (VEC), Canada's first academic centre for independent vaccine research and an international leader in vaccinology research.
Established in 1988, investigators with the VEC conduct a wide range of vaccine research and evaluation projects, including studies into the effectiveness of various vaccines for influenza, HPV and meningococcal disease. Once the pandemic began, these experts helped evaluate COVID-19 vaccines. Many of these studies remain open for enrolment.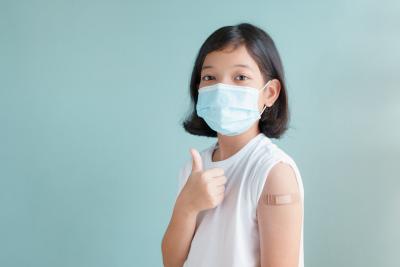 As COVID-19 vaccines were nearing approval in Canada, Dr. Julie Bettinger, a vaccine safety scientist at the VEC, was appointed the lead investigator for CANVAS-COVID a pan-Canadian study for tracking any potential adverse reactions to COVID-19 vaccines.
Dr. Manish Sadarangani, director of the VEC, has initiated several studies to evaluate the effectiveness of vaccines. In the MOSAIC study, VEC researchers are looking into the duration of the immune response after receiving different COVID-19 vaccines for their first two doses or booster. Meanwhile, the PREVENT-COVID study investigates how long these immune responses last. 
The timing between doses has also been an important question for public health offices. Dr. David Goldfarb and his colleagues provided crucial data in the first peer-reviewed study in North America that examined the timing between first and second doses of COVID-19 mRNA vaccines. The study, co-led by Dr. Brian Grunau, assistant professor at the University of British Columbia's department of emergency medicine and scientist at the Centre for Health Evaluation and Outcome Sciences, showed that a longer dose interval leads to a stronger immune response.