Welcome to this month's Research Roundup, a recurring overview of recent studies published by researchers at BC Children's Hospital Research Institute (BCCHR) and the University of British Columbia, and their collaborators.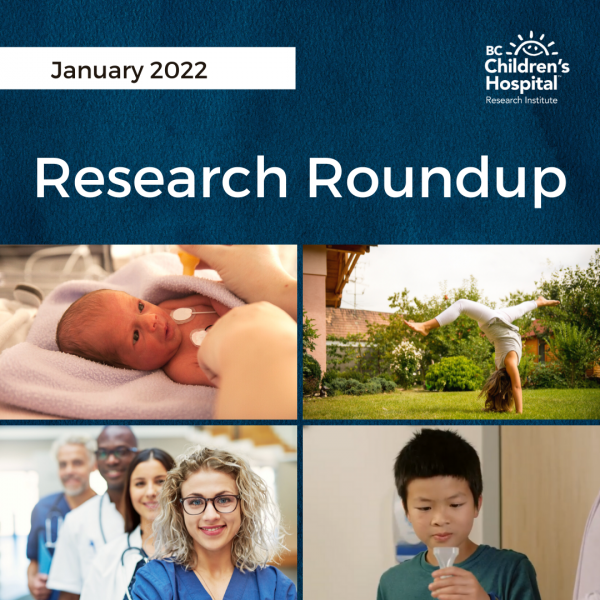 Family Integrated Care in the NICU associated with better child behaviour in toddlerhood
BCCHR theme: Brain, Behaviour & Development
Behaviour problems are common in toddlers who were born very preterm, at less than 33 weeks of gestation. At 18 months of age, these problems can include internalizing behaviours such as social withdrawal, anxiety and separation distress, and externalizing behaviours such as aggression and impulsivity, dysregulation of sleeping and eating, sensitivity to sensory input and negative emotionality.
Dr. Ruth Grunau, Dr. Anne Synnes, Dr. Mia McLean, Dr. Julie Petrie, Dr. Joanne Weinberg and their collaborators found that the development of behaviour problems associated with being very preterm were improved by reducing maternal stress through a neonatal care program called Family Integrated Care (FICare).
FICare greatly increases the close involvement of parents in the day-to-day care of their infants in the neonatal intensive care unit (NICU). Parents monitor, feed and bathe their infants, provide skin-to-skin care, complete medical charts, report on their infant's wellbeing during medical rounds and receive peer-to-peer support. Standard NICU care, on the other hand, typically involves long periods of parent-child separation for weeks or months during the infant's hospitalization. This separation is a substantial stressor for both, with long-term adverse results. Previous research has shown that this stress can interfere with parent-child bonding and can lead to disruptions in neuro-behavioural development.
Importantly, the researchers found that birth mothers who were in the FICare group displayed lower physiological stress — as measured by cortisol levels — at 18 months compared to those who were not part of the FICare group.
"This reduced stress due to FICare involvement was the pathway whereby child behaviour was improved," said Dr. Grunau. "FICare may help avoid the downward cycle of parental distress and associated child neuro-behavioural problems that we know can span birth through adolescence and beyond. With its long-term positive impacts on several aspects of wellbeing for both the birth parent and child, FICare could be a beneficial addition or replacement to the current standard of care in the NICU."
Read more in "Lower Maternal Chronic Physiological Stress and Better Child Behavior at 18 Months: Follow-Up of a Cluster Randomized Trial of NICU Family Integrated Care," The Journal of Pediatrics.

Lean body mass as a key health indicator in pediatric kidney transplant recipients
BCCHR themes: Childhood Diseases and Evidence to Innovation
Children with end-stage kidney disease typically require kidney transplantation. Kidney transplant recipients are at risk of clinical frailty, meaning they can experience some combination of weakness, exhaustion, unintentional weight loss, low tolerance for physical activity, and a state of severely reduced lean body mass (LBM) called sarcopenia — when a person's LBM drops below the tenth percentile of their age- and sex-matched peers.
LBM is defined as a person's weight minus their body fat. Essentially, it's the total weight of your organs, skin, bone, connective tissue, muscle and body water. LBM can decrease while fat mass remains unchanged or even increases, which means a child's physical appearance is not an accurate indicator of their LBM. Serious health consequences are associated with greatly reduced LBM, such as higher risk of cardiovascular disease and diabetes, increased inflammation, decreased bone density and shortened life expectancy.
Dr. Tom Blydt-Hansen, Azim Ahmed, Dr. Anita Cote and Dr. Samantha Lui looked at bone density scans of 46 children who had received kidney transplantation. From these measurements, they calculated the children's LBM pre-transplant and again around six months and two years post-transplant. The team also administered a physical activity questionnaire to all participants in order to determine a possible association between physical activity and height-adjusted LBM. The data were compared to those from children with no history of kidney failure.
"We found that LBM tended to increase significantly after transplant compared with pre-transplant; however, this increase was not seen in all participants," said Dr. Blydt-Hansen. "Those who experienced a decline in kidney function after transplantation had the lowest height-adjusted LBM. Additionally, while increased physical activity was associated with increased LBM, our study could not confirm whether physical activity caused the increase in LBM. Our findings do suggest, however, that easily accessible LBM data may be a useful and non-invasive indicator of post-transplant health and rehabilitation success in pediatric kidney transplant recipients."
Read more in "Height-Adjusted Lean Body Mass and Its Association With Physical Activity and Kidney Function in Pediatric Kidney Transplantation," Pediatric Transplantation.

Identifying organizational supports and barriers to evidence-informed health care and knowledge translation
BCCHR themes: Evidence to Innovation and Healthy Starts
Making use of evidence — gathered through medical research, professional experience, and patient and family perspectives — is critical for ensuring safe, quality health service delivery and is foundational to evidence-informed health care (EIHC). Knowledge translation (KT) refers to the processes used to move this evidence into action, but KT can often be hampered by lack of organizational supports.
Dr. Stephanie Glegg, Dr. Liisa Holsti, Dr. Kimberly Miller, Dr. Laura Nimmon and Dr. Anita Kothari conducted a national environmental scan using a bilingual online survey distributed to leaders and KT support personnel at Canadian pediatric academic health science centres and their affiliated research institutes. The team summarized for the first time the wide range of organizational structures, processes, personnel and partnerships that currently support EIHC and KT processes in pediatric research and health-care organizations across Canada. They also identified several barriers and limitations to KT and to the provision of KT supports, including limited resources, time constraints, resistance to change and lack of dedicated KT personnel.
"While we were happy to identify such a broad range of strategies and partnerships, the diversity of service models and the limited supports in many centres highlight the need for greater evidence to inform best practices, resource allocation and decision-making in this area," said Dr. Glegg. "Our findings provide an important foundation for enabling evidence use from an organizational perspective, and for supporting the involvement of clinicians, families, leaders and dedicated KT experts to augment the relevance, uptake and impact of child health research."
Read more in "Organizational Supports for Knowledge Translation in Paediatric Health Centres and Research Institutes: Insights From a Canadian Environmental Scan," Implementation Science Communications.

Self-administered saline gargle COVID-19 tests are just as effective as swab-based tests
BCCHR themes: Healthy Starts and Evidence to Innovation
Quick and effective laboratory testing methods are needed to identify COVID-19 cases in real time to prevent transmission, evaluate and monitor vaccine effectiveness, and track new SARS-CoV-2 strains. Unfortunately, in addition to widespread shortages of COVID-19 tests, many communities around the world are experiencing testing bottlenecks due to insufficient numbers of trained health-care workers available to deliver swab-based tests.
When it comes to patient preference, most prefer saline gargle COVID-19 tests because they are non-invasive and easy to use. Additionally, saline gargle tests can be self-administered and do not require observation by health-care workers, thereby reducing the personnel needed for sample collection. But are these tests as accurate as the standard flocked nasopharyngeal (NG) swabs?
Dr. David Goldfarb, Maggie Woo Kinshella, Dr. Peter Tilley, Dr. Ghada Al-Rawahi, Dr. Jocelyn Srigley, Iryna Kayda, Dr. Mitchell Canes, Meghan McLennan, Jeffrey Bone, Michelle Dittrick, Dr. Vijay Gadkar and Dr. Linda Hoang recently found that unobserved, self-collected saline gargle tests perform as well as health-care worker-collected NG swab tests for the detection of SARS-CoV-2. The team concluded that saline gargle tests have an overall sensitivity of 98 per cent.
"Our study found that unobserved, self-collected saline gargle samples across a wide range of ages had high sensitivity, building on previous research demonstrating the noninferiority of the saline gargle collection method when compared to health-care worker-collected NG swabs," said. Dr. Goldfarb. "Saline gargle methods have the potential to alleviate human resource constraints and facilitate more timely and equitable access to COVID-19 testing."
Read more in "Evaluation of Observed and Unobserved Self-Collection of Saline Gargle Samples for the Detection of SARS-CoV-2 in Outpatients," Diagnostic Microbiology and Infectious Disease.
Do you have a question about this article or other BCCHR news?